London, England —(Map)
Christo is an artist famous for creating huge works of art that only last for a short time. Now he has used 7,506 barrels to make a floating shape called "The London Mastaba". Even though the piece of art weighs more than a million pounds, it is floating in a lake in a park in London, England.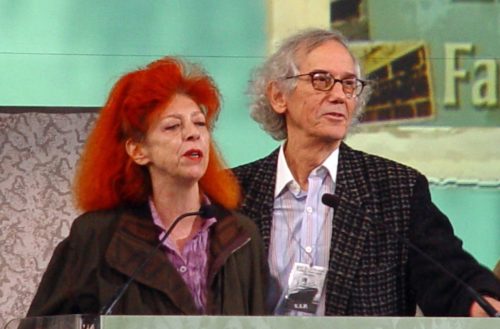 Christo Javacheff is usually known just by his first name. For years, he worked with his wife, Jeanne-Claude, to create huge works of art, sometimes called installations. In their installations, Christo and Jeanne-Claude usually changed the way buildings or large areas of land looked. This kind of art is often called "Land Art".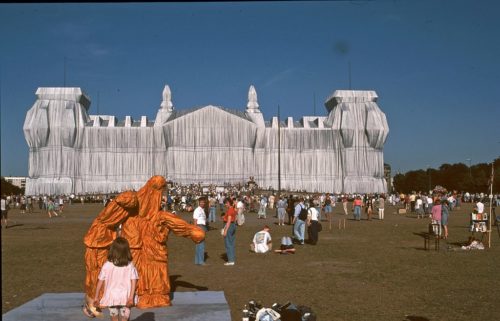 The artists often used cloth in their installations. For example, they used cloth to wrap up the Reichstag, a famous building in Berlin, Germany. Another work of art was called "Running Fence". They built a 25 mile (40 kilometer) fence with cloth on it for that project. For their "Umbrellas" installation, Christo and his wife set up over 3,000 yellow and blue umbrellas in Japan and California. The umbrellas were 20 feet (6 meters) tall and over 28 feet (8 meters) across.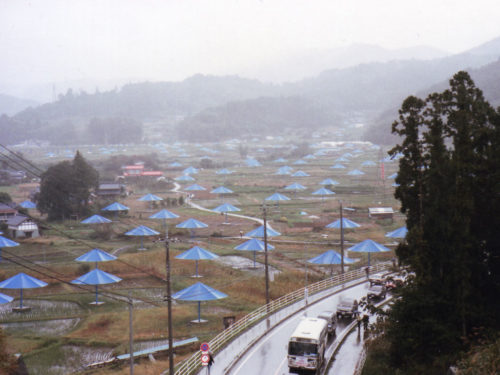 Another important part of the art that Christo makes is that it is temporary. It does not last. The installations are put up for a little while – usually a few months – and then taken down. Christo says, "I am an artist, and I have to have courage … Do you know that I don't have any artworks that exist? They all go away when they're finished."
Because the art works are so large, they also cost a lot of money. The artists pay for everything themselves by selling the plans, drawings, and models they make before creating an installation.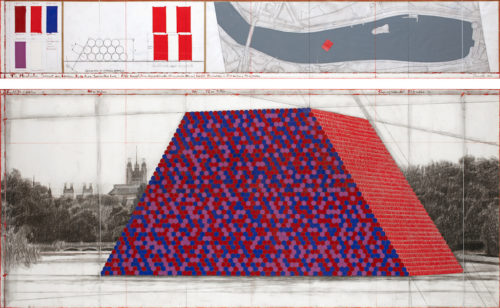 Jeanne-Claude died in 2009, but Christo has kept working. He has done large projects in Germany and Italy.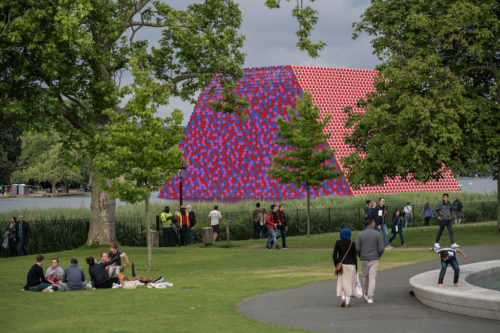 Christo's new work, "The London Mastaba", is in Hyde Park in London. Mastaba means "bench" in Arabic. The shape is like a pyramid with the top cut off. Christo got the idea from old Egyptian buildings where important people were buried.
The Mastaba is 66 feet (20 meters) high. At the bottom, the art work is about 130 feet (40 meters) long and 98 feet (30 meters) wide. It is build of oil barrels laid on their sides. The barrels are colored red, blue, white, and light purple. Christo says that the colors will look different as the light changes during the day. The Mastaba will be taken down in September.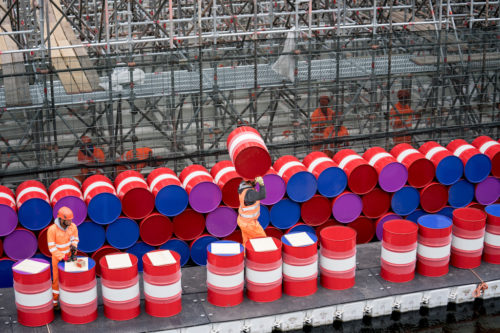 Even though Christo's work usually doesn't last, the artist may change that. This mastaba is just practice. In the future, he hopes to make another one in the desert in Abu Dhabi that is eight times taller. If he does, he says, that one will be permanent.
😕
This map has not been loaded because of your cookie choices. To view the content, you can accept 'Non-necessary' cookies.