Strong cyclones in the Pacific and Atlantic Oceans have hit land, leaving a trail of damage behind. Vietnam and the Philippines are struggling to recover from Typhoon Molave. In the US, Louisiana and nearby states are still battling Hurricane Zeta.
Typhoon Molave Plows Through Philippines, Vietnam
In southeast Asia, Vietnam and the Philippines are dealing with the effects of Typhoon Molave, the Pacific's 18th named storm of the year.
The typhoon first hit the Philippines, where it is known as Typhoon Quinta, on Sunday and Monday. It caused flooding and landslides, and forced about 70,000 people to leave their homes. At least nine people were killed and several others are missing.
On Wednesday, the powerful storm hit the coast of Vietnam near Da Nang around noon. Hundreds of thousands of people had been evacuated to get them out of the path of the typhoon.
The storm destroyed tens of thousands of houses, with winds as fast as 103 miles per hour (mph) (165 kilometers per hour (kph)), and waves as high as 6 feet (1.8 meters).
The typhoon continued into central Vietnam, knocking down trees and electric lines, taking out power for millions of people. The storm dropped up to 18.5 inches (47 centimeters) of rain in some places, which is expected to lead to more flooding and landslides.
Central Vietnam was already struggling to recover from the flooding that happened last week, which damaged over 300,000 homes. Vietnam has faced extreme weather conditions this year. It has been hit by four named storms in October alone.
The bad weather may cause food shortages in the future. The floods have already destroyed over 27.8 square miles (72 square kilometers) of crops and killed or washed away nearly 700,000 farm animals.
"The people of Vietnam are tough, yet this is among the worst destruction ever seen in many areas," says Nguyen Thi Xuan Thu, who leads Vietnam's Red Cross.
Hurricane Zeta Hits Louisiana
Late Wednesday afternoon, Hurricane Zeta made landfall about 60 miles (100 kilometers) away from New Orleans, Louisiana. The hurricane hit with winds of about 110 mph (177 kph), and quickly moved toward New Orleans, dumping down rain and taking out power for about 350,000 people.
The hurricane is strong for one so late in the hurricane season. It is moving fairly quickly, so it's less likely to do too much damage in any one place, unlike a slower moving hurricane. "It's going to be quick, but it's going to be brutal," said Collin Arnold, who works for the city of New Orleans.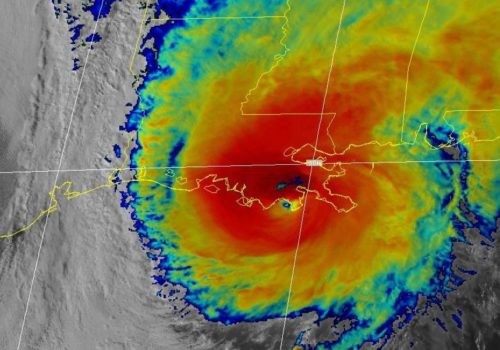 Zeta's winds, rain, and storm surge were expected to affect the states of Louisiana, Alabama, and Mississippi. All three states declared a state of emergency before the storm hit. Georgia may also get strong winds from the storm.
Hurricane Zeta is the 11th named storm to strike the US this year. Louisiana has been hit particularly hard. This was Louisiana's fifth named storm in 2020.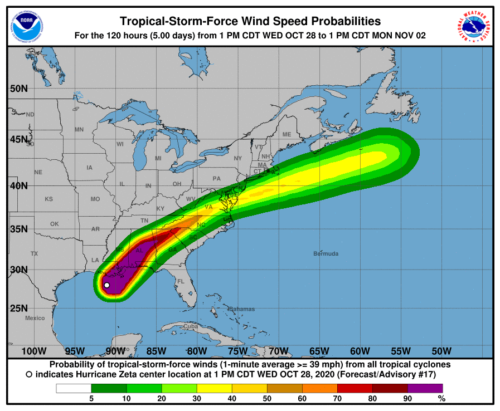 Zeta is the 27th named storm of 2020 Atlantic hurricane season. Before crossing the Gulf of Mexico to the US, Zeta hit Mexico's Yucatan Peninsula on Monday without causing too much damage.