Columbia, Missouri —(Map)
On Saturday, Vanderbilt University senior Sarah Fuller made history by becoming the first female to play in a Power 5 college football game. The special event was celebrated widely – even by supporters of the opposing team.
Fuller is a college senior who is the goalkeeper on Vanderbilt's women's soccer (football) team. Just last week, Fuller and her team won the Southeastern Conference women's soccer title.
Fuller wasn't planning on switching over to play American football for Vanderbilt's men's team. She was actually packing up her things to go home to Texas. That's when she got a call asking her to step in as a kicker to help out the men's team.
All the regular kickers on the football team had been forced to quarantine after being exposed to someone with the coronavirus. That meant the team had no one to kick for its Saturday game against the University of Missouri.
Derek Mason, the Vanderbilt football coach, turned to Fuller, who had plenty of experience kicking balls down the field. Fuller gave up her vacation and began practicing with the men's team.
Though a few women have kicked in college football games before, Fuller is the first to kick for a Power Five school. The "Power Five" refers to the five strongest and best college conferences (groups of teams which play each other). Vanderbilt belongs to the SEC (South-Eastern Conference), one of the five major conferences.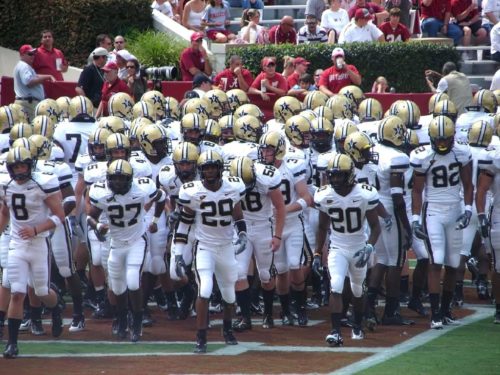 On Saturday, Fuller wore the number 32 – the same number she wears when she plays soccer for Vanderbilt. On the back of her helmet was a sticker that said, "Play Like a Girl". Play Like a Girl is a group that encourages girls to take part in sports and activities like science and math.
Fuller opened the second half of the game with a kickoff. She placed a perfect kick of 30 yards (27.5 meters), keeping Missouri from returning the ball.
Though she knew it was a historic moment, Fuller said she tried to simply focus on playing her best for the team. "I was really excited to step out on the field and do my thing," she said.
Vanderbilt hasn't been having a great season. They haven't won a game this year, and they lost to Missouri 41-0. But that didn't stop huge numbers of people from watching Saturday's game, many tuning in just to see Sarah Fuller play.
Many famous sports figures – football players, coaches, and other athletes – congratulated Fuller on social media.
Once the game was over, Fuller was more ready to talk about making history. She said it was exciting to have the chance to represent the dreams of little girls. "I just want to tell all the girls out there that you can do anything you set your mind to. You really can," she said.
There were no chances for Fuller to score, but that's something she's looking forward to in the future. She is still training with the team and may play for them when they face Georgia next Saturday.