Last Thursday, Time magazine announced that 15-year-old scientist Gitanjali Rao was its Kid of the Year for 2020. Gitanjali was chosen from over 5,000 young leaders for her scientific work and for inspiring others to also create change.
Time magazine has long been famous for its "Person of the Year", which highlights someone who really made a difference during the year. Last year, climate striker Greta Thunberg became the first person under 25 to be chosen as Time's Person of the Year.
This year, the magazine decided to make a point of recognizing young leaders in the United States, with its first ever Kid of the Year choice. Time worked with the TV channel Nickelodeon to look at kids between the ages of 8 and 16 who were really making a difference, no matter how small.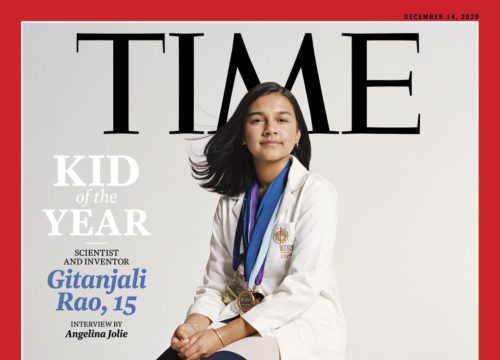 Andrea Delbanco, the editor of TIME for Kids, says "Small steps can lead to big change. These are everyday kids making change in their communities."
When Gitanjali was 11, she invented a system for testing drinking water for lead. Lead is a dangerous metal that's sometimes found in drinking water, especially in places with older pipes. The invention earned her the title of America's 'Top Young Scientist' in the Discovery Education 3M Young Scientist Challenge.
One of Gitanjali's more recent creations is an app called Kindly, which she hopes will help cut down on online bullying. The program helps filter messages that may be hurtful before they get sent. Kindly is also available as an extension for the web browser Chrome.
One thing that really impressed Time's judges were the efforts Gitanjali has made to influence others. She's worked with schools, clubs, museums, and other groups around the world to teach over 30,000 other young people how to come up with their own solutions to problems.
"I don't look like your typical scientist," she says. That's one reason she works so hard to encourage others to make their own changes in the world. "It's not easy when you don't see anyone else like you. So I really want to put out that message: If I can do it, you can do it, and anyone can do it."
Four other young people were finalists for the award. The others are each leading in their own way.
Tyler Gordon, for example, bounced back from being bullied in school to make a name for himself painting pictures of Black people. He has recently painted a picture of Vice President-elect Kamala Harris.
Ten-year-old Bellen Woodard has created a line of crayons called "More Than Peach", which come in a wide range of skin colors. Ian McKenna has worked for seven years to grow food for the hungry. His "McKenna's Giving Garden" project has produced enough food for 25,000 meals.
Jordan Reeves, who was born with a very short left arm, has worked with the toy company Mattel and others to help find ways to celebrate people with physical differences. She also works to encourage these people to create solutions to their own problems.