Washington, DC —(Map)
As people around the world tune in to see President-elect Joe Biden and Vice President-elect Kamala Harris sworn in on Wednesday, a young poet will be getting a huge amount of attention.
Amanda Gorman is only 22 years old, but she's been chosen by Mr. Biden's team to write a special poem, and read it at his inauguration.
Though it's not unusual for Democratic presidents to ask a well-known poet to write a special poem for their swearing-in ceremony, Ms. Gorman is the youngest poet ever to be honored in this way.
But Ms. Gorman is used to the attention. She has been well known as a poet for years. When she was just 16, she was the official young poet of Los Angeles. Part way through her college years at Harvard, she was named the country's first National Youth Poet Laureate – the country's official young poet.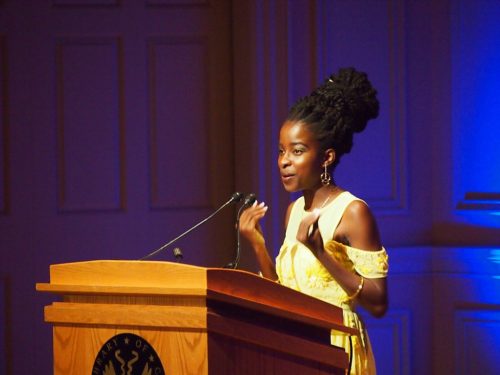 This fall, Ms. Gorman will have two books coming out. One is a book of poems for teens and adults. The other is a picture book for children.
The Biden team gave Ms. Gorman about five minutes to read her poem. She said she had the poem partly written before the January 6 attack on the Capitol by supporters of President Donald Trump. Her ideas and feelings as she watched the Capitol riot gave her what she needed to finish the poem.
The poem is called "The Hill We Climb". Ms. Gorman says that her poem doesn't avoid difficult subjects. Though the Biden team suggested that Ms. Gorman should focus on bringing the country together, they did not tell her what she could and could not say.
Writing a poem for a president and reading it at the inauguration is a great honor. It can also lead to even bigger success. After poet Maya Angelou read her poem "On the Pulse of Morning" at the inauguration of President Bill Clinton, her poem quickly became a best-selling book.
---
Did You Know…?
The inauguration can be watched live on many TV stations and websites. Though coverage may begin earlier, the main events aren't expected to begin until 10:30 am Eastern time. The actual inauguration is planned for noon (12:00 pm). Here are two places where you should be able to find a live stream of the events:
• Biden Inaugural website
• C-Span