Joe Biden has been elected the 46th president of the United States. Late Saturday morning, Mr. Biden finally won the state of Pennsylvania, giving him enough electoral college votes to win the election for US president.
Though the election was held on Tuesday, November 3, the counting of ballots dragged on for days in states where the race was close.
By taking Pennsylvania, Mr. Biden and his running mate, Kamala Harris, reached 279 electoral college votes, pushing them past the 270 needed to win the election.
As the news broke that Mr. Biden had won the election, crowds of people began cheering on the streets of many US cities.
On Saturday night, President-elect Biden and Vice-president elect Harris claimed victory, speaking to the country from a stage in Wilmington, Delaware, where they were cheered on by supporters.
In his speech, Mr. Biden said it was time for the country to pull together. "We are not enemies. We are Americans," he noted, saying that he planned to encourage Democrats and Republicans to cooperate more.
Ms. Harris will become the first woman and the first woman of color to serve as vice-president. Ms. Harris said that though she was the first woman elected vice president, she wouldn't be the last, "Because every little girl watching tonight sees that this is a country of possibilities."
The winners will face huge challenges in their time in the White House. The coronavirus has exploded in the US in recent weeks, the climate crisis is getting worse, businesses are struggling and millions of people are out of work, and tensions in the country over racism and police violence are extremely high.
Mr. Biden says that he will focus first on the coronavirus pandemic, since it will be hard to make progress in other areas until the virus is under control.
Though Mr. Biden won't become president until January, he says that on Monday, he will announce a special group organized just to tackle the coronavirus.
So far, current US President Donald Trump is refusing to admit that he has lost the election. On Saturday, he said that the election was "far from over". Mr. Trump and his team are expected to continue to try to fight by taking election results to court in different states.
There are still four states where the results have not yet been reported. Mr. Biden is ahead in two of these states, and seems likely to wind up winning with an even larger lead when all states are counted.
Experts say there's little chance that Mr. Trump can change any of the results. Even if the ballots are recounted in some states, it's unlikely to come out differently.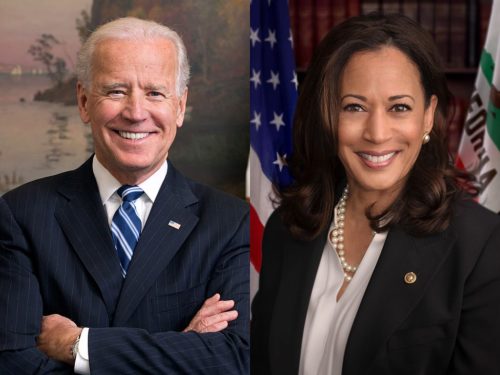 Still, it will be some time before the results from all of the states become official. Mr. Trump will remain as president until January 20, 2021, when Mr. Biden and Ms. Harris will be sworn in.
---
Did You Know…?
This was Mr. Biden's third time running for president. He first ran for president 32 years ago, in 1988.