Naypyidaw, Myanmar —(Map)
On Monday, the army took control of Myanmar, removing the country's elected leader, Aung San Suu Kyi, and her government from power. Ms. Suu Kyi and several people who work with her are being held by the military.
Ms. Suu Kyi has been Myanmar's state counselor, a position like prime minister, since her National League for Democracy (NLD) party won in elections in 2015. But even so, the army has kept control of much of the government.
Monday's actions, including holding many politicians, government leaders, writers, and people who have worked for change, seem to show that the military plans to remain in control. The coup came hours before a new session of Parliament was set to begin.
Myanmar's military announced that the country would be under a state of emergency for one year, and that the army's leader, Senior General Min Aung Hlaing was in charge. The military said it would hold new elections when the state of emergency ends.
The country's main international airport was closed, and flights inside the country were canceled. At times during the day, internet and cell phone networks stopped working.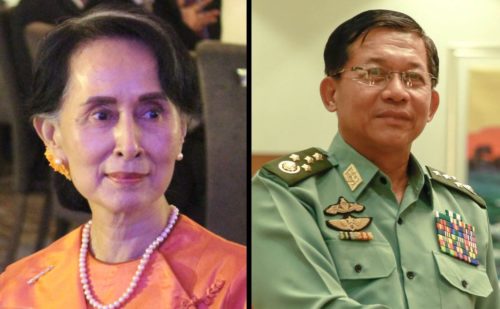 The military say they were forced to take action following last November's elections, which they claim weren't fair. The elections were a huge victory for Ms. Suu Kyi's NLD party, which won 396 out of 476 seats in Parliament. The military said violence in some areas kept many people from voting.
But most people in Myanmar don't believe the military's actions were simply about the fairness of the election. General Min Aung Hlaing's time as army leader was going to end this summer. Now, with the military in charge of the government, he will remain in power.
Many countries, including the US and members of the European Union, have condemned the coup. US Secretary of State Antony Blinken said, "The military must reverse these actions at once."
This isn't the country's first coup. The military first took control of Myanmar in 1962 and remained in power for 49 years. The effects on the country were terrible. Even as Myanmar began taking steps toward democracy, the military fought against it.
Many members of the NLD were sent to jail for years. Ms. Aung San Suu Kyi wasn't allowed to leave her home for 15 years. In 1991, she won the Nobel Peace Prize for her peaceful struggle against the military.
In 2015, things seemed to have changed. Myanmar's military were praised for accepting the results of the elections that finally brought the NLD and Ms. Suu Kyi to power.
In her time leading the country, Ms. Suu Kyi was often criticized for failing to stop brutal attacks against the Rohingya people. Thousands of Rohingya people were killed and over 700,000 were forced to leave the country for safety.
Even so, November's election showed that Ms. Suu Kyi, now 75, is still very popular inside Myanmar. She may be counting on that popularity. In an internet post, Ms. Suu Kyi wrote, "I urge people not to accept this, to respond and…to protest against the coup by the military."