Car makers around the world are being forced to make fewer cars because they can't get enough computer parts. Several factories have been closed temporarily as a result. The problem is expected to continue for several months.
When you imagine car parts, you might not think of computers. But tiny computers, called microprocessors, are incredibly important in modern cars.
As cars have gotten fancier, these microprocessors – commonly known as "chips" – have been added to control many different parts of a car. Modern cars may have as many as 150 microprocessors.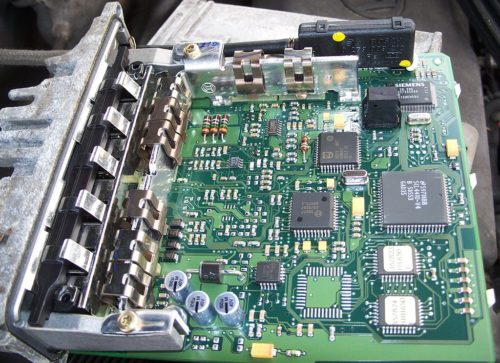 Chips control all sorts of things, from how the fuel goes into the engine, to the way the car brakes, as well as controlling dozens of other systems. These days, checking a car's computer system might be the first step a mechanic takes to figure out what's wrong with a car.
But now car makers worldwide don't have enough chips to produce all the cars they planned to make. As with many recent problems, the trouble is related to the coronavirus.
Last year, as places around the world went into lockdown because of the coronavirus, many car makers had to close their factories. Since they weren't making cars, they canceled many of their orders with chip makers.
That forced the companies that make microprocessors to stop making so many chips for cars. They started looking for other customers, and soon began selling lots of chips to other kinds of companies.
For example, during lockdown, many people bought computers and video game systems to help pass the time while they were stuck at home. That meant that companies that made computers and video game systems needed a lot of chips for their products.
So now that car makers are ready to start making lots of cars again, there aren't nearly enough microprocessors.
How bad is it? One company that studies the car business says that the chip shortage has already caused car makers to produce 500,000 fewer cars. The company expects that number to drop by 300,000 more cars this year.
Ford stopped making cars at its Kentucky factory in December, and has slowed up work at a factory in Germany. General Motors has decided to make fewer cars at its factories in Canada, Mexico, South Korea, and the United States.
Honda and Nissan have stopped making cars at some of their factories. Volkswagen, Audi, and Mazda are also affected. Only Hyundai and Toyota are reported to have enough chips to keep making cars at full speed.
Another reason for the shortage is that there just aren't many companies that make chips. Most of the large chip-making companies are in China or Taiwan.
In the US, the problem has led the White House and Congress to begin looking at ways of dealing with the shortage. Last Wednesday, President Joe Biden asked Congress for $37 billion to help make sure that more chips will be made in the US in the future.
Still, that's unlikely to solve the problems the car makers have now. Most people expect the chip shortage to last for several months.