Six books written by Dr. Seuss won't be published anymore, says the company that manages the author's work. That's because some of the pictures in those books are considered insulting. The list includes some of the author's well-known books.
"Dr. Seuss" is the name used by Theodor Seuss Geisel, the writer and artist behind many famous children's books. Picture books by Dr. Seuss, such as "The Cat in the Hat" and "Green Eggs and Ham", have been used around the world to help kids learn to read.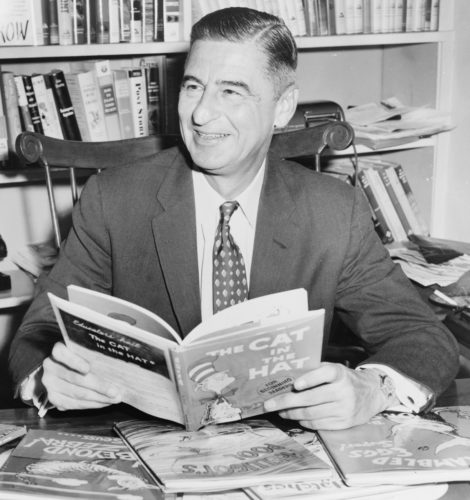 Millions of copies of his books have been sold in over 100 different countries. The books are famous for their catchy, funny rhymes. But it's probably the crazy drawings of imaginary, silly people, creatures, places, and situations that many people remember when they think of Dr. Seuss.
It's some of those drawings that have now caused Dr. Seuss Enterprises to stop publishing a few of his books. Mr. Geisel (Dr. Seuss) died in 1991. Dr. Seuss Enterprises is the company that now manages Mr. Geisel's work.
The group says that after studying all of Mr. Geisel's books, and discussing them with a group of experts, including teachers, they have decided to stop publishing six of the books.* The group says, "These books portray [show] people in ways that are hurtful and wrong."
One of the books is the first book Mr. Geisel wrote as Dr. Seuss, "And to Think That I Saw It on Mulberry Street". In the book, which came out in 1937, one character is called "a Chinaman", and is drawn with thin eyes and a pointy hat. The man is shown carrying chopsticks and a bowl of rice.
In another of the books, called "If I Ran the Zoo", two characters from an imaginary African island are shown without shirts or shoes, and are drawn to look like monkeys.
Like many other works from the past, these books carry reminders of a time when racism was more common and more accepted.
A number of older books, such as "Pippi Longstocking" have been changed slightly in recent years to remove insulting language. Many famous children's books, such as "Babar", "Curious George", and "Little House on the Prairie" have been accused of sharing racist ideas.
And it's not just books. Disney has added messages to several of its classic movies, such as "Lady and the Tramp" and "Aladdin", warning that they show some groups of people in ways that aren't fair or right. Last month, the streaming service Disney+ added similar warnings to several episodes of "The Muppet Show".
In the case of Dr. Seuss, the insulting pictures are perhaps especially surprising because many of his stories carry positive messages. For example, "The Sneetches" teaches that it's important not to judge people by their looks. "The Lorax" is a book about protecting the environment.
Perhaps Mr. Geisel's changing views over time help explain the different messages. Five of the six books that have been pulled were written in the 1950s or earlier.
* The six books that will no longer be sold are "And to Think That I Saw It on Mulberry Street", "If I Ran the Zoo", "McElligot's Pool", "On Beyond Zebra!", "Scrambled Eggs Super!", and "The Cat's Quizzer".