New Delhi, India —(Map)
The coronavirus is spreading rapidly in India, with over 300,000 new cases every day. The outbreak is so bad that India's health care system is having trouble keeping up. In response, countries from around the world are sending supplies to help out.
India has always faced a huge challenge with the coronavirus. It's a country of 1.4 billion people. Many are poor and live close to each other. India's busy, crowded cities make social distancing difficult.
In spite of this, only a couple of months ago, India seemed to be getting the coronavirus under control. In January, India began the huge job of vaccinating its 1.4 billion people. By February, the numbers of new cases had dropped, and they remained low through much of March.
Many people thought India might have reached "herd immunity". That's when a virus has trouble spreading further because so many people are immune to it – either because they're vaccinated or have already had the virus.
In March, many people began to skip important safety steps like wearing masks and social distancing. Large crowds gathered for holidays and religious events. Even the country's president, Narendra Modi, held several large rallies where the virus may have spread.
Things were made worse by coronavirus "variants" – slightly changed versions of the virus. Some variants can spread more easily, and vaccines may not offer as much protection against them.
By early April, it was clear that the number of cases was no longer dropping – it was shooting up rapidly. India was facing a quickly growing second wave of the coronavirus.
India has been vaccinating people quickly. But even so, only 10% of its people have gotten a vaccination, and only 1.6% are fully vaccinated. The vaccines are helping, but not nearly enough to slow the spread of the virus. And India is running low on the materials needed to make more vaccines.
On April 5, India had 103,000 new cases of the virus. Over the last week, the country has had more than 300,000 new cases and 2,000 deaths every day. Most health experts believe that the true numbers are actually far higher than this.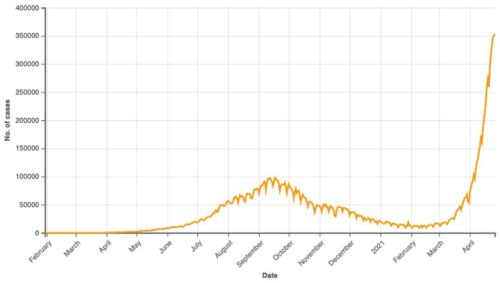 So many people are sick that India's health care system can't help them all. There aren't enough supplies or beds in the hospitals for all of the sick people.
Many people are so sick that they require special help with breathing. Usually, these people would be given oxygen, but India is running low on oxygen. The country also doesn't have enough ventilators – special machines that can help people who need help breathing.
In response to the terrible situation, many countries* are sending medical supplies to India. Singapore and the United Kingdom have already sent oxygen supplies and ventilators. The United States is sending materials needed to make more vaccines, and is also expected to send several million doses of the AstraZeneca vaccine.
The new supplies will help. But getting India's coronavirus situation under control is a huge job and is likely to take time.
*Other countries that have promised to help India include Australia, Bhutan, Denmark, France, Germany, Israel, Pakistan, Saudi Arabia, and the United Arab Emirates. The European Union and the World Health Organization are also sending help.