Republicans Remove Leader For Not Supporting Trump
On Wednesday, Republicans voted to remove Liz Cheney from her leadership position in the US House of Representatives. In some ways, the battle over Ms. Cheney's position represented a battle over the Republican party.
The result seems to show that Ex-President Donald Trump still controls the Republican party, even though he's no longer in office. Mr. Trump and his supporters continue to say that the 2020 election for president was stolen from Mr. Trump, even though there's no proof to support this idea.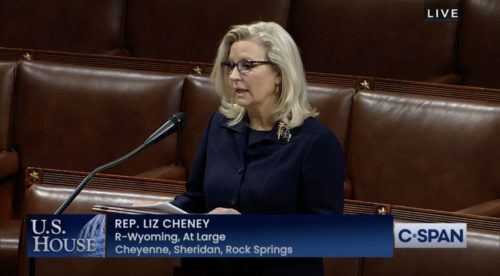 Ms. Cheney, who represents Wyoming, was one of the few Republicans who voted to impeach Mr. Trump after his supporters stormed the US Capitol. Ms. Cheney has continued to speak out against Mr. Trump, arguing that his lies are bad for the Republican party and dangerous for the country.
Republicans have decided that Ms. Cheney can't be a party leader when her ideas about Mr. Trump are so different from those of other Republicans. So far, no one has been chosen to replace Ms. Cheney, who was the third highest Republican leader in the house.
Chinese Rocket Falls Safely Into Indian Ocean
The remaining bits of China's largest rocket fell to Earth Sunday, landing in the Indian Ocean. Most of the debris burned up as it fell through the Earth's atmosphere. For several days last week, people around the world were worried about where the rocket might land.
China's Long March 5B rocket was launched on April 29 carrying part of a new space station that China is building. A 98-foot (30-meter) section of the rocket fell back toward Earth, traveling at speeds as fast as 17,400 mph (28,000 kph). No one knew where it would land.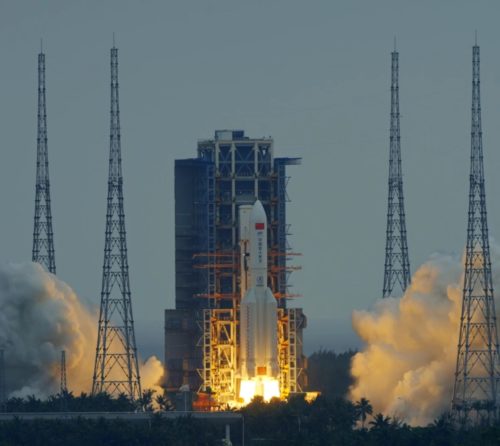 In general, space agencies try to make sure their rocket pieces fall to Earth in a planned way. Usually, the target is the ocean, far away from where people live.
Many of China's recent rocket launches haven't followed this process, and have fallen to Earth without a plan. The director of the US space agency NASA said China wasn't following "responsible standards" for dealing with its space debris.
The Long March 5 rocket is important to the Chinese space program. China will need at least 10 more missions to complete its space station.
Fast for Football, Not Fast Enough for Track
Last October, Seattle Seahawks football star DK Metcalf surprised people by rapidly chasing after another player and stopping him from making a touchdown. At his fastest that day, he was running 22.6 mph (36 kph).
On Sunday, at the USATF Golden Games and Distance Open, Metcalf got a chance to test his speed against professional sprinters.
Metcalf has only been training as a sprinter for a few months, and weighs far more than the other athletes. Still, he managed to defeat two of the other athletes, coming in 15th out of 17 runners.
Metcalf ran the 100 meters in 10.363 seconds. Cravon Gillespie, the winner on Sunday, finished in 9.96 seconds.
Metcalf's time wasn't fast enough for the US Olympic team, but many people were impressed with his effort. Metcalf himself was impressed with the other athletes. "This is very different from football speed," he said.