Gujarat, India —(Map)
On Monday, Gujarat, India was hit by the strongest storm ever to strike India's west coast. Cyclone Tauktae has forced hundreds of thousands of people from their homes and made India's Covid-19 emergency even more difficult to deal with.
India had been preparing for Cyclone Tauktae for days as the cyclone worked its way up the west coast. Over 200,000 people were evacuated from low-lying areas in the western Indian state of Gujarat. Long before it hit land, Tauktae brought huge amounts of rain, causing flooding in several Indian states.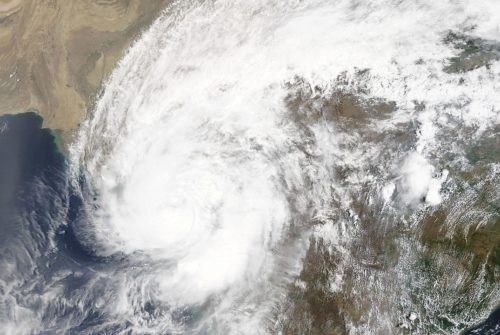 As the cyclone came closer to land, it grew stronger and stronger. On Monday night, Tauktae made landfall in Gujarat, hitting the state with winds as fast as 125 mph (205 kph). That's the strongest storm ever to hit India's west coast, and breaks an earlier record set in 1998.
The cyclone, which India's weather agency described as "extremely severe", pounded the area with heavy rains, flooding roads and highways. Its strong winds knocked down trees and power line supports, leaving over 2,435 villages without electricity.
Many of the simple houses along the coast were destroyed by the strong winds. Coastal areas were flooded by storm surges as high as 13 feet (4 meters). At least 26 people have died from events connected to the cyclone.
Dozens of people were still missing after a barge sank off the coast of Mumbai. India's navy has rescued 177 people of the 270 who were on the barge. Navy ships are still searching for survivors, but high waves and strong winds are making the search difficult.
Even before Cyclone Tauktae appeared, India was already struggling with a terrible outbreak of Covid-19. Up until Monday, the country had had over 300,000 new Covid-19 cases a day for 26 days. Though the number of new cases appears to be dropping slightly now, the number of deaths remains high.
Now India has two disasters, and each has made the other one more difficult.
Before the cyclone struck, India was forced to stop vaccinations in the area. As the cyclone hit, it was a struggle to make sure that hospitals and health clinics didn't lose electricity. It was also hard to keep producing and transporting much needed supplies, such as oxygen.
For those who were evacuated, the risk of getting Covid-19 is far greater among the large groups gathered in the emergency shelters. It will be quite a while before people whose homes were destroyed will be able to leave the shelters.
The coronavirus pandemic has also made it much harder for India to provide help to those affected by the cyclone. Though 100 teams have been sent to the states affected by the cyclone, only vaccinated workers could be sent.
Cyclone Tauktae is the area's first named storm of 2021, and it has raised concerns about what might happen during India's upcoming monsoon season, which lasts for months.