Israel and Palestinians Agree to a Ceasefire
After 11 days of fighting, Israel and Palestinian militant groups have agreed to a ceasefire. Disagreements in early May led to serious fighting after Palestinians in Gaza fired rockets at Israel, and Israel responded with attacks from airplanes.
The ceasefire was suggested by Egypt, but countries around the world have encouraged both sides to end the fighting. The problems behind the fighting are old and are deeply felt in the Middle East. There were worries that if the fighting wasn't stopped, it could grow into a far more deadly conflict.
Palestinian militants in Gaza have fired over 4,000 rockets at Israel. Many people have criticized Israel's attacks for hitting targets not related to the fighting. Last week, an Israeli attack took out a building that was the headquarters of several news groups.
Since the fighting began, over 230 Palestinians have been killed, almost half of them women and children. Twelve people have been killed in Israel, including two children.
It took several hours after the declaration of the ceasefire for fighting to actually stop. Next comes the difficult work of trying to prevent the fighting from starting again.
Scientists Find 100-Year-Old "Monster" Fish
Every spring, US Fish and Wildlife Service (USFWS) scientists go fishing in the Detroit River to get an idea of the numbers and kinds of fish that live there. This April, they got a real surprise.
After getting a bite on a fishing line, it took three crew members about six minutes to pull in the massive fish. It was a lake sturgeon – a fish with a shark-like tail that lives on the bottoms of lakes and rivers.
The scientists weighed and measured the sturgeon, and put a microchip in it so that it can be identified in the future. Then they quickly returned it to the water.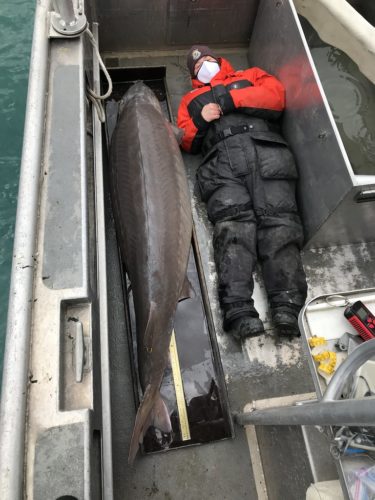 The giant sturgeon weighed about 240 pounds (109 kilograms) and was nearly 7 feet (2.13 meters) long. The USFWS described it as a "real life river monster".
Lake sturgeons are threatened in Michigan and several other states – only about 7,000 are left. Based on its size and weight, the scientists believe the sturgeon was a female over 100 years old.
A Vending Machine That Bakes a 3-Minute Pizza
Rome has a new vending machine that bakes a pizza while you wait. The machine, called "Mr. Go Pizza" offers four different kinds of pizza which cost between $5 and $7.
The machine stretches the dough out and puts the toppings on. There's a small glass window that allows customers to watch as their pizza bakes.
But pizza is a source of pride in Italy, where it was first sold as a street food in Naples. Creating a 3-minute meal delivered through a vending machine doesn't impress many Italians.
Though some people called the pizza "terrible", others were kinder. "It's OK, but it's not pizza," one woman told the news agency Reuters.
With plenty of pizza restaurants around, it's not clear if Mr. Go will be successful. But it does offer something that most restaurants don't – 24 hour service. "It is very useful if you're hungry late at night," said a man who works nearby.