Law enforcement groups around the world have arrested over 800 people they believe are criminals. The arrests come after a 3-year project by the FBI and Australian police to spy on criminals through a sneaky app on special cell phones.
The arrests that were announced on Tuesday were the result of a special program called Operation Trojan Shield. The program was run by the United States FBI (Federal Bureau of Investigation) and law enforcement groups from 16 other countries.
😕
This image has not been loaded because of your cookie choices. To view the content, you can accept 'Non-necessary' cookies.
The targets of Trojan Shield weren't just ordinary criminals, but large groups of criminals working together. These groups – sometimes called "gangs" or "organized crime" – are involved in serious and dangerous criminal activities including killing, and illegally selling guns or drugs.
These criminal groups normally communicate using encrypted messaging apps. When messages are encrypted, it's nearly impossible for law enforcement officers to learn what the groups are doing.
In 2018, the FBI was able to shut down a criminal encrypted messaging service called Phantom Secure. It has also shut down other encrypted messaging services. That left criminal groups looking for a new way to send messages.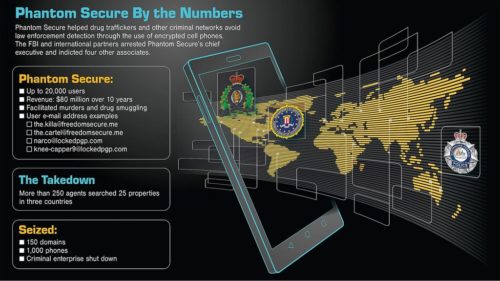 That's when the FBI did something tricky. They took an encrypted messaging app called "ANoM" and changed it so that it would secretly send them a copy of every message that was sent.
The app ran on special cell phones commonly used by criminal groups. The FBI convinced a few criminals to tell others about the phones. They started with just 50 phones in Australia. Soon, more and more criminals began buying the phones.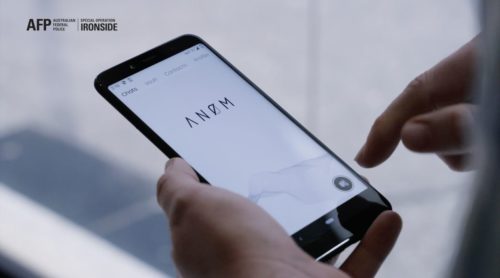 Before long, phones with the ANoM app became popular with criminals around the world. Nearly 12,000 of the phones were in use, allowing the FBI and other groups to collect about 27 million messages. They were able to read the messages, but they didn't know the names of the people who sent them.
The FBI, Europol, the Australian police, and law enforcement groups around the world worked together to study the messages. By putting together the details, they were able to slowly figure out how the criminal networks were organized.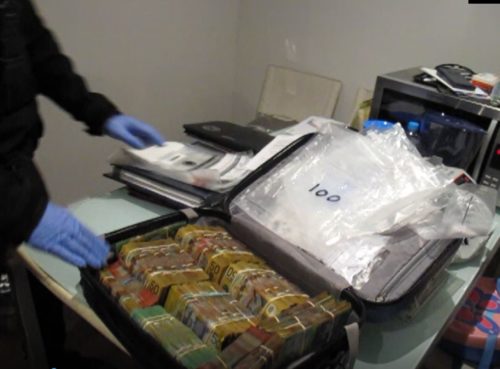 In the last few days, law enforcement agencies in 16 countries have been acting on the information that has been collected during the last year and a half.
Over 800 people have been arrested. Large amounts of illegal drugs and some weapons have been found. Over $48 million belonging to these groups has been collected. Hundreds more arrests are expected in the coming weeks.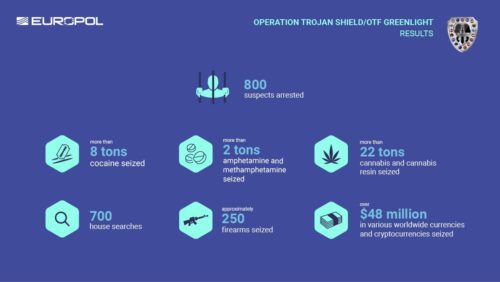 The level of international cooperation involved in Operation Trojan Shield is unusual. It's not uncommon for a couple of countries to work together, but the number of countries involved in this complicated operation is rare. But it also makes sense, since these large criminal groups are also international, and cause problems in many different countries.
One other part of the operation is also fairly unusual. Normally encryption is a tool used by criminal organizations to hide what they are doing. In this case, law enforcement groups were able to turn that encryption into a weapon that worked against the criminals.