London, England —(Map)
Gas (petrol) stations across the United Kingdom (UK) are running out of fuel, leading to huge lines of people looking for gas. The government is working on the problem, but a quick solution isn't likely. The country doesn't have enough truck drivers to deliver the needed fuel.
A group that represents 5,500 independent filling stations around the UK says that two-thirds or more of its stations are out of fuel. As a result, drivers are having to visit many petrol stations in the hopes of finding fuel. Drivers must often wait in line for hours to buy gas at the few stations that do have fuel.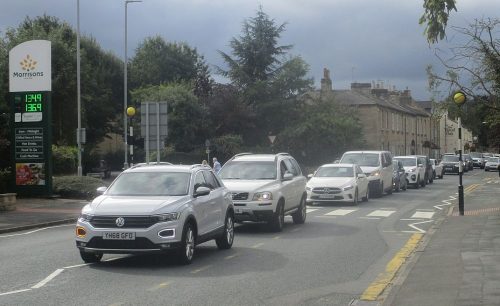 Some people are calling for emergency workers to get special attention at filling stations. There are serious concerns about workers like doctors, nurses, and ambulance drivers being unable to work because of the shortage. Already the country's National Health Service has had to cancel some visits by cancer patients because of the shortage.
The government claims the country doesn't really have a shortage of gas. They say the problem is being caused by people buying more fuel than they need because they are scared. Some people are calling this "petrol panic". The government says the problem will be solved if people only buy what they need.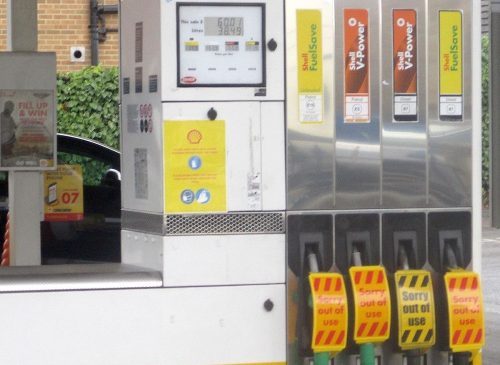 Normally gas and oil companies like BP, Shell and Esso are limited in how they work together. That's meant to keep them from planning together to raise prices. Now, the government has given these companies temporary permission to work together in order to make sure that gas stations get supplies as quickly as possible.
But the main cause of the current gas problem isn't petrol panic or an actual lack of fuel. It's that there are not enough truck drivers to deliver fuel to filling stations. Experts believe that the UK needs as many as 100,000 more drivers.
The UK has had a shortage of truck drivers for years, but the problem has gotten far worse in the last 18 months. That's because around 25,000 truck drivers from Europe left the UK because of Brexit (when the UK chose to leave the European Union). The coronavirus pandemic has also limited the number of people driving trucks.
In a short term effort to help solve the problem, the government has offered temporary permission for as many as 5,000 truck drivers from Europe to come over and drive trucks in the UK until December 24.
But UK truck drivers don't believe many European drivers will be interested. They say truck drivers in the UK aren't paid well and the working conditions aren't good.
As an emergency step, the government has told 150 army truck drivers to be prepared to step in to help deliver gas to petrol stations.
The "petrol panic" isn't the only trucking problem the UK is facing. Many stores and restaurants have already had trouble getting the supplies they need. Store owners are warning that without more truck drivers to deliver supplies, many store shelves could be empty during the December holidays.