Strong and Deadly Earthquake Strikes Pakistan
A 5.9 magnitude earthquake hit in the mountains of southwest Pakistan early Thursday morning. At least 24 people were killed, and over 300 people were injured. Dozens of people are missing. The quake struck close to Harnai in Baluchistan province, about 60 miles (100 km) away from Quetta, the province's capital.
Most people in the area were asleep when the quake happened, and many were injured when their homes collapsed. Most houses in the area are simple buildings made of dried mud. The quake knocked down at least 100 houses and other buildings, leaving hundreds homeless.
At least four of those killed were already at work in a coal mine. There are many coal mines in the area, and there is concern that the number of people injured or killed could rise.
Hospitals in the area struggled to deal with the large number of injured people. Pakistan's army used helicopters to help carry some of the injured people to get medical care.
Earthquakes are common in Pakistan. The country has suffered from several other serious earthquakes in recent years.
WHO Approves Vaccine Against Malaria
On Wednesday, the World Health Organization (WHO) approved a vaccine against malaria for the first time ever. The vaccine is called Mosquirix. Though it isn't perfect, it could save the lives of tens of thousands of young African children every year.
Malaria is a deadly disease spread by mosquitoes. It kills around 435,000 people each year, mainly in Africa. Malaria is more dangerous for children because they're younger and weaker. Before now, the main way to avoid malaria was to not get bitten by mosquitoes. That's hard to do in places where many houses are simple huts with open windows.
Malaria is caused by a parasite. Parasites are larger and more complicated than other disease-causing germs, so it's harder to create a vaccine against them. Mosquirix is the first vaccine ever against a parasite.
Mosquirix only prevents around 30% of severe malaria cases. But over 250,000 African children die from malaria every year, so preventing even 30% of severe cases is a huge victory. Also, when Mosquirix is combined with other medicines that fight malaria, the protection against the serious effects of malaria rises to nearly 70%.
There are still more steps before Mosquirix becomes commonly used in Africa, but having WHO approval is a big first step in the right direction.
Russian Actor, Movie Maker Will Make First Film in Space
On Tuesday morning, Yulia Peresild and Klim Shipenko arrived at the International Space Station (ISS). But they're not cosmonauts. Ms. Peresild is a Russian actress and Mr. Shipenko is a movie maker. The two will spend 12 days on the ISS filming scenes for the first full-length movie made in space.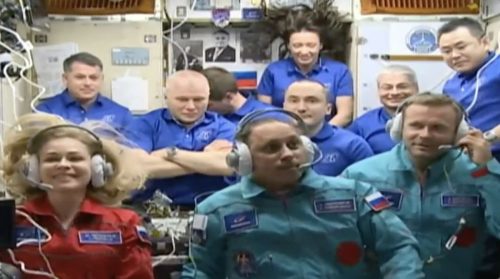 The movie they're shooting is called "The Challenge". It's expected to tell the story of a Russian doctor who makes an emergency trip to the ISS to save a cosmonaut.
The two flew to the ISS with Russian cosmonaut Anton Shkaplerov, who is making his fourth trip into space. Though Mr. Shkaplerov has plenty of serious work to do on the ISS, he and some of the other cosmonauts will also play small parts in the movie.