Northern California was hit on Sunday by an extremely strong storm that knocked down trees and left highways covered with water from record rains. The storm also caused mudslides in areas that were burned in recent wildfires.
Two unusual weather patterns came together to cause the storm. Part of the storm was caused by a weather system called an "atmospheric river". That's a large, wide band of wet air coming in off the Pacific Ocean. This atmospheric river was being pushed by a "bomb cyclone", which was heading north.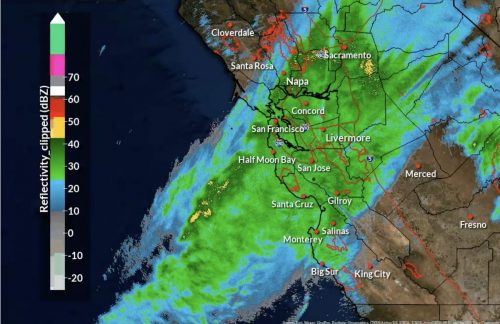 "Bomb cyclone" is a phrase weather scientists use to describe a spinning storm that becomes very strong very quickly because of a rapid drop in pressure. Bomb cyclones are similar to regular cyclones or hurricanes, but aren't as powerful and happen farther away from the equator.
The power company PG&E reported that over 630,000 of its customers had lost power. By Monday evening, power had been restored for most of those customers, but around 50,000 homes and businesses were still without electricity.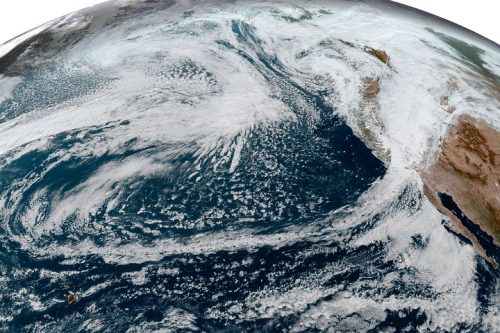 The National Weather Service (NWS) expected the rains to set records in northern California, and it wasn't wrong.
The NWS reported 16.55 inches (42 centimeters) falling in Marin County. Sacramento got 5.44 inches (13.8 centimeters) in 24 hours. That's the most rain to fall in Sacramento in a single day since 1880. San Francisco had its fourth wettest day ever recorded. Roads and highways flooded in both cities.
California is in the middle of a drought, and the rain was needed. But the heavy rainfall and California's recent wildfires made the situation more complicated.
When the ground is very dry and has few plants, it's hard for rain to soak in. This creates conditions that can lead to flash floods and mudslides. California's recent drought and wildfires have killed plants and left the ground extremely dry and unable to absorb the amount of rain that has fallen.
As one weather expert put it, "We…have gone from fire/drought conditions to flooding in one storm cycle."
In several areas close to recent wildfires, people were told to evacuate because of the danger of flash floods and mudslides. In other places, people were warned to be on the lookout for mudslides.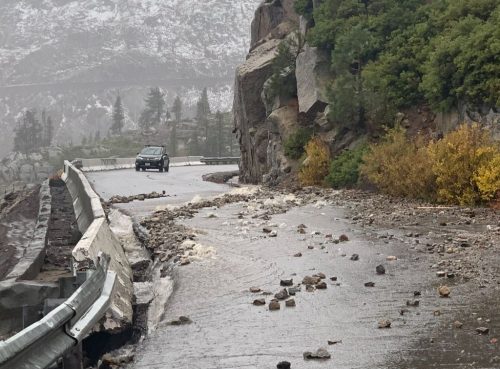 In several counties in northern California, parts of roads and highways were closed because of landslides and mudslides. For example, California's highway police closed part of State Route 70, which was blocked by several landslides. The landslides happened in places where the road crossed areas burned in the huge Dixie Fire.
It's still not clear if the rain from this storm will make much of a difference in California's drought or its current wildfire problems.
As the bomb cyclone headed north, tens of thousands of people in Oregon and Washington were left without power. Two people in Seattle died when their car was hit by a falling tree.
Canada's west coast also got heavy rains and strong winds. The storm took out power for thousands of homes in British Columbia, and caused ferries in the area to be canceled.
---
Did You Know…?
Over the next few days, the US is expecting another storm triggered by a bomb cyclone. This time, it's in the country's northeast.