Barcelona, Spain —(Map)
In Spain, children and their families are riding bikes to school together in large groups. The program is called "bicibús" or bike bus. In Barcelona, the program started recently with only five children and grew quickly to hundreds of riders.
This fall, children in the Eixample area of Barcelona have a new way to get to school on Fridays – they ride their bikes. In September, a group of five children began biking to school with their parents on Fridays. Soon the group grew to 150 or more.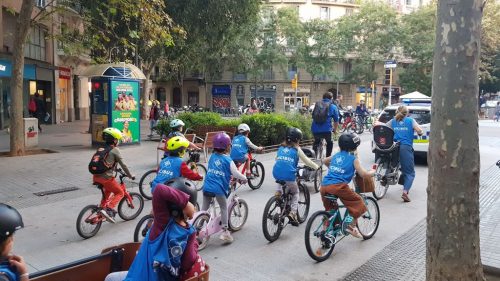 The Eixample bike bus begins around 8:25 every Friday morning. The path it will follow is always posted ahead of time, so everyone knows where to join. The bicibús starts off with just a few students and parents, with more and more joining as it travels along.
Most kids ride their bikes, but others ride scooters or use skates. Instead of riding in bike lanes or on sidewalks, the bicibús takes over the entire street. With music playing and bike bells ringing, the bicibús feels like a party.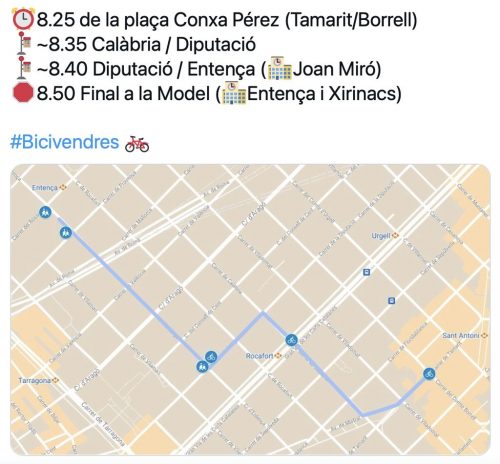 Being able to ride with a bunch of kids is a big part of the fun. Nine-year-old María Pitarch says, "The best part of the bicibús is that we ride along and pick up my friends and we ride together."
The Eixample bicibús goes to several schools. When students reach their school, they leave the bus and park their bikes. Some parents have made the bicibús the way they get to work on Friday.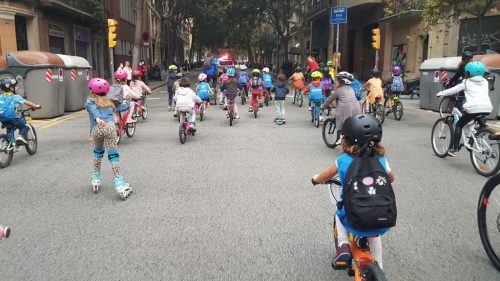 It was possible to bike to school in Eixample before, but it wasn't really safe for kids. There are a few bike lanes, but there are also lots of cars. One of the main roads used by the Eixample bicibús has about 20,000 cars and motorcycles every day.
Because these are busy streets, the local police are helping stop traffic by riding in front of the bicibús and behind it.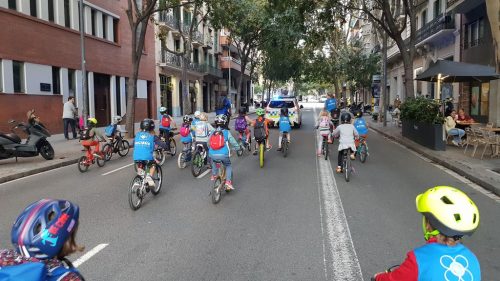 Parents are hoping that the bicibús will help change ideas about how people can get around in the city. They want the city to create wider, kid-friendly bike lanes that are separate from car traffic. They point out that the bicibús also helps cut down on pollution.
Recently, pictures and videos of the Eixample bicibús got a lot of attention when they were posted on the social media site Twitter. Many people pointed out what a simple idea it is, and how easy it is to get started.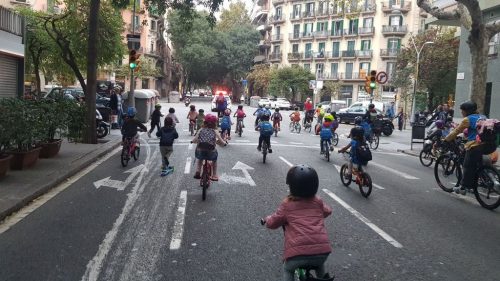 Already some other areas in Barcelona are also organizing bike buses. One organizer said there are probably around 1,000 people in the area taking part in bike buses every week. Some bike buses have even been organized in other countries.
Barcelona isn't the first bicibús ever. The idea has been around for quite a while. There have been bike buses in Madrid and other parts of Spain for years. Most bike buses are smaller than the one in Eixample, and have parents at the back and front instead of police.
---
Did You Know…?
In the United States, there have been similar events, often called a "bike train", or a walking version, known as a "walking school bus".
😕
This map has not been loaded because of your cookie choices. To view the content, you can accept 'Non-necessary' cookies.