Glasgow, Scotland —(Map)
Tens of thousands of people protested in Glasgow, Scotland and other cities around the world on Saturday. The protesters think the leaders at COP26 – the United Nations climate meeting – aren't taking the climate crisis seriously enough.
The protesters came from many different groups from all over the world. But they all had a similar message: They want more, faster climate action, and they want the voices of people who are not powerful to be heard.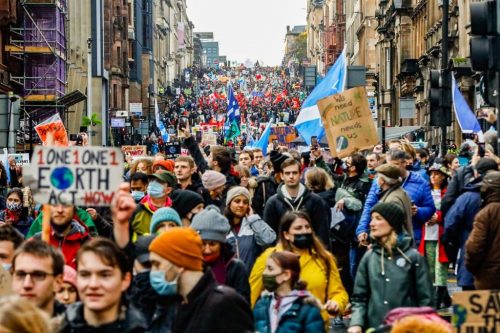 COP26, the United Nations Climate Change Conference
Last week, the leaders of over 100 countries gathered in Glasgow, Scotland for the COP26 climate meeting. Several big plans were announced, including reducing coal use, cutting the greenhouse gas methane, and ending deforestation.
But many countries didn't agree to plans for cutting fossil fuels quickly. The leaders of China and Russia didn't even show up. Most world leaders have gone home now, but people representing each country have remained behind to work out the important details of the action needed to get global warming under control.
Tens of thousands of people turned out in Glasgow as part of the "Global Day of Action for Climate Justice", in spite of the cold, wet weather. The protesters marched through the city and took part in rallies. Similar protests were held in other cities around the world.
Many of the people protesting on Saturday are from groups which don't feel like they are being represented well at COP26. The protesters included many different groups: young people, workers, people from indigenous groups around the world, people of color, people from poor countries, people from religious groups, as well as many ordinary people worried about the climate crisis.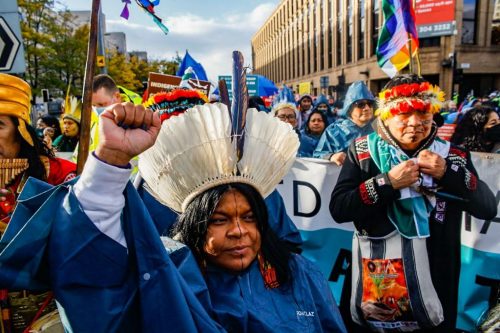 A group called COP26 Coalition has organized a special 4-day meeting called the People's Summit, which started Sunday. The People's Summit aims to give these groups a way to share their concerns over what is happening – or not happening – at the COP26 meeting.
For example, many countries have promised to become net-zero by 2050. But critics say that net-zero promises with dates set far in the future are just a way of delaying climate action.
Another concern is that even though richer countries created most of the pollution that caused the climate crisis, poorer countries will be most affected by it. But the voices of poorer and smaller countries often seem to be lost at big meetings like COP26.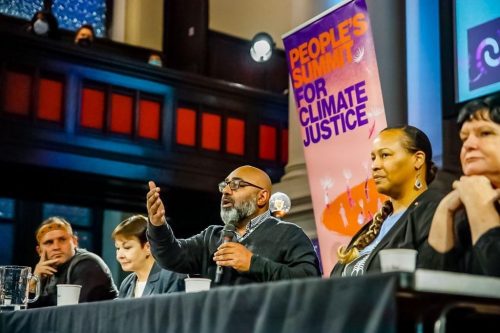 This year, it's even worse – many people from poorer countries weren't able to travel to Glasgow for the COP26 meeting because their countries don't have enough Covid-19 vaccines yet.
This lack of balance between the extremely rich and extremely poor is often called "inequality". Many people believe that it's impossible to deal with the climate crisis without also dealing with inequality.
Age marks another kind of inequality in the climate crisis. Young people will be far more affected by climate change than adults. Yet right now, it's the adults who are making the decisions.
😕
This image has not been loaded because of your cookie choices. To view the content, you can accept 'Non-necessary' cookies.
Greta Thunberg, the teen who started the climate strike movement in 2018, has already called the COP26 meeting a "failure". She says that what's needed are serious cuts in pollution right away, not more talk.
Barack Obama, who used to be president of the US, spoke at COP26 yesterday. He agreed that climate action was moving too slowly.
😕
This image has not been loaded because of your cookie choices. To view the content, you can accept 'Non-necessary' cookies.
He said young people were "right to be frustrated", and that they should use their anger to keep the pressure up. "Keep pushing harder and harder for more and more," he said. "Because that's what's required to meet that challenge."
😕
This map has not been loaded because of your cookie choices. To view the content, you can accept 'Non-necessary' cookies.