Stockholm, Sweden —(Map)
Yesterday, Magdalena Andersson became Sweden's first female prime minister ever. But only a few hours later, she resigned after an important party in her coalition government pulled out. Sweden is now searching for a new prime minister once more.
Wednesday was a historic day in Sweden, as 54-year-old Magdalena Andersson was named prime minister. Ms. Andersson became the leader of Sweden's Social Democrats party earlier this month. But Ms. Andersson's term in office came to a quick end. Political differences in a deeply divided Parliament broke up the coalition that Ms. Andersson had put together.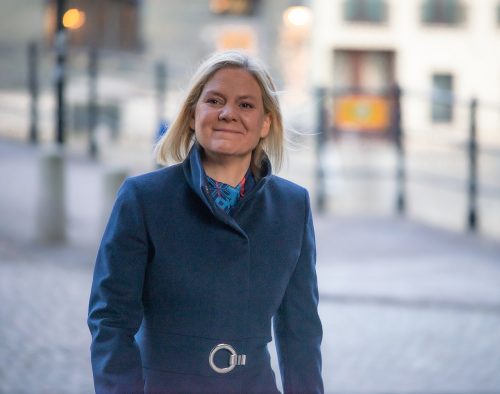 Sweden's parliament, the Riksdag, is deeply divided. That has made it hard for leaders to form strong, lasting coalitions. In June, Ex-Prime Minister Stefan Löfven lost a no-confidence vote, bringing down the government. Though he was later able to form a new government, he stepped down on November 10.
As the new leader of the Social Democrats, Ms. Andersson struggled to form a coalition government. But she managed to form a two-party coalition with the Greens party. Under the rules of Sweden's Parliament, Ms. Andersson only needed to make sure that less than half of Parliament voted against her. In the end, it was close. Ms. Andersson was only one vote away from being rejected.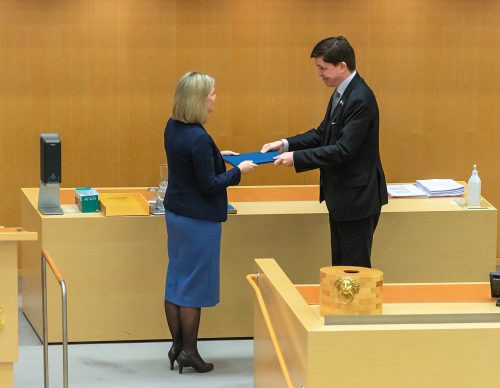 The deep divisions in Parliament caused problems for Ms. Andersson almost right away. The spending plan that her government suggested was rejected by Parliament. Instead, the Riksdag approved a spending plan suggested by the opposition.
The Greens pulled out of the government coalition, because it couldn't support the opposition spending plan. Ms. Andersson felt like that left her with no choice. "A coalition government should resign if a party chooses to leave the government," she said.
Sweden's speaker of Parliament, Andreas Norlén, will now decide who will get the chance to try to form a new government. Ms. Andersson says she's willing to lead a single-party government, if Parliament chooses her again. The process may not be a quick one. After Sweden's 2018 election, it took Parliament four months to find a prime minister.
Though it didn't last long, Ms. Andersson's time as prime minister was celebrated. Many members of Parliament stood and clapped when she was named prime minister. "I know what this means for girls in our country," said Ms. Andersson.
Unlike many nearby countries, Sweden has never had a female as the country's leader. Denmark had its first female prime minister 10 years ago. Finland's first female leader came in 2003. And Norway chose a woman for prime minister all the way back in 1981.
Sweden's next general election will be held in September, 2022.