Ottawa, Canada —(Map)
Weeks of protests against Covid-19 rules have shut down parts of Canada. The government is working hard to end the protests. At the same time, similar protests have begun in other countries, copying the methods of the truckers who began the protests.
Canada Truckers' Protest
In late January, truckers from around Canada began driving to Ottawa. The goal was to protest a government rule requiring truckers crossing the border into Canada to be vaccinated against Covid-19. The organizers call their protest the "Freedom Convoy".
The truckers blocked streets in the capital, demanding that government leaders meet with them. Soon, the truckers were joined by other protesters and the demands grew. The protesters said they wouldn't leave until the government dropped almost all health rules designed to help control the coronavirus.
The protest spread, leading to similar shutdowns in other cities in Canada. Central Ottawa has remained blocked by trucks, with protesters honking their horns through the night.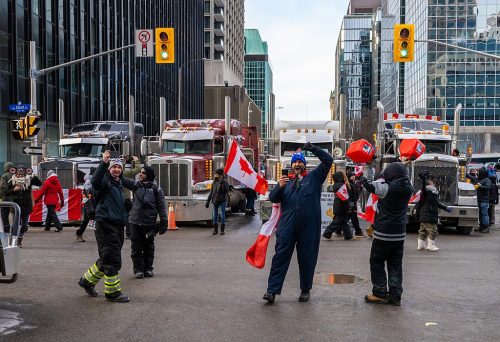 Prime Minister Justin Trudeau and other politicians have been criticized for not taking strong action sooner to end the protests. Many people who thought the protests would be temporary have been surprised by how long the truckers have remained.
The trucks have made it easier for truckers to keep protesting, giving them a way to keep warm and a place to sleep. The large vehicles are also extremely hard for police to move.
But as the protests continue, the government is working harder to end them.
On February 7, protesters filled and blocked the Ambassador Bridge, which connects the US and Canada. About 25% of the products sold between the US and Canada go over this important bridge. The bridge shutdown caused major problems. Many large car makers like Ford and Toyota stopped work at factories because they couldn't get parts.
😕
This image has not been loaded because of your cookie choices. To view the content, you can accept 'Non-necessary' cookies.
There was a lot of pressure in both the US and Canada to clear the bridge. On Friday, a court ordered protesters to leave the area. On Saturday, police moved in, arresting people and towing vehicles. By Sunday night, the bridge was cleared and had re-opened.
In Ottawa, things are moving more slowly. Last Friday, Ontario Premier Doug Ford declared a state of emergency. Under the new rules, people blocking important roads can be fined huge amounts of money or be put in jail for up to a year. Drivers can lose their licenses. Ottawa police are trying to cut off supplies that have kept the truckers going.
Ottawa mayor Jim Watson's office said on Sunday that protesters have agreed to pull their trucks out of neighborhoods where people live. The truckers will continue to protest around Parliament.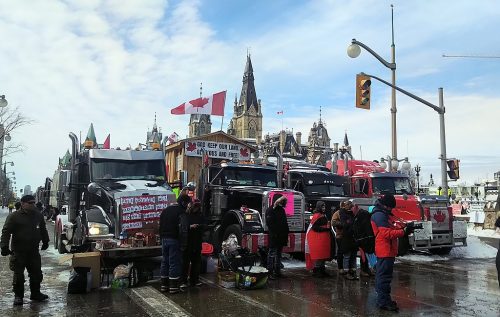 The truckers' convoy has also shown how difficult it can be to protect the right to protest while also protecting the rights of people affected by protests. The protest in Ottawa has left many local people feeling unsafe, and angry at having their city taken over. This weekend, thousands of people came out in Ottawa and other cities across Canada to protest against the truckers' protest.
Copycat Protests in Other Countries
In France, convoys of trucks have been making their way to Paris. As in Canada, the protesters are complaining about Covid-19 rules. French police worked hard to block protesters' vehicles before they entered Paris.
Even so, some vehicles and protesters made it into the city's center on Saturday and began blocking traffic. Police used teargas to break up the protest. In another part of Paris, a protest march against vaccines was allowed to go ahead.
😕
This image has not been loaded because of your cookie choices. To view the content, you can accept 'Non-necessary' cookies.
In New Zealand, about a thousand people showed up in Wellington last Tuesday to protest in front of Parliament and on the streets nearby. Over 100 people were arrested on Thursday. On Saturday, the sprinklers on the grass in front of Parliament were turned on to encourage protesters to leave.
---
Did You Know…?
Though the truckers' protests in Canada have gotten a lot of attention, the protesters represent a small fraction of Canadians. About 90% of Canada's truck drivers and 80% of all Canadians are already vaccinated.
😕
This map has not been loaded because of your cookie choices. To view the content, you can accept 'Non-necessary' cookies.