Gulmarg, India —(Map)
A hotel in Jammu and Kashmir, India has created what it says is the largest igloo cafe in the world. The coffee bar, made of snow and ice, can seat up to 40 people. It may be the world's largest, but it won't be around for long. It's expected to melt in March.
Gulmarg is a ski resort high in the Himalayan mountains. One of the hotels at Gulmarg is the Kolahoi Green Heights. And, yes, it's pretty high up – about 1.6 miles (2.6 kilometers) above sea level.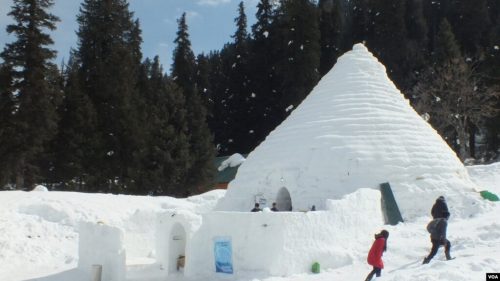 With so much ice and snow around from December to March, last year, people at the Kolahoi hotel decided to build an igloo cafe. Syed Wasim Shah, who created the cafe, got the idea from an igloo village he'd seen in Switzerland. Last year's igloo cafe could hold about 16 people.
This year, the hotel decided to go for something bigger. They began work in early December and didn't finish until early February. When they were finished, they had created the biggest igloo cafe in the world. They call it the Snoglu.
Before this, Guinness World Records said the largest snow igloo was in Switzerland. It was 34.5 feet (10.5 meters) tall, and 42.3 feet (12.9 meters) across. The Snoglu is 37.5 feet (11.4 meters) tall and 44.5 feet (13.6 meters) across. "We have already written to Guinness," says Mr. Shah. It will take a while, but he feels sure his igloo has set a new record.
The Snoglu Cafe has 10 tables and can hold up to 40 people at a time. The benches, tables, and decorated railings are all made out of packed snow. Sheep skins cover the icy benches to make them more comfortable.
The Snoglu is separated into two different sections. One part holds artwork made out of – what else? – snow and ice. Mr. Shah designed the "snow art".
The other part of the Snoglu is a working cafe, selling coffee, hot chocolate, and snacks. The hotel's manager says the cafe focuses on items that can be served quickly, since it's so cold in the igloo that most guests don't want to stay too long.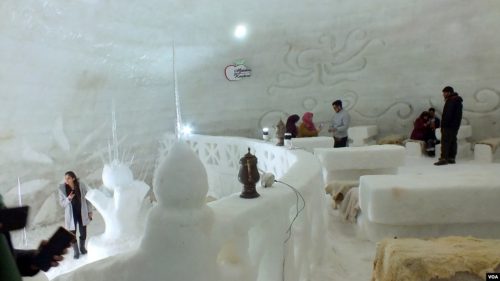 Tourists seem to love the Snoglu in spite of the cold. Mr. Shah says there are between 300 and 400 visitors every day. The hotel is charging a small fee to enter the Snoglu to keep it from becoming too crowded.
Tourists who want to see the Snoglu Cafe will need to visit soon. The snow in Gulmarg starts to melt away in mid-March.
But Mr. Shah has big plans for the future. Next year he plans to rebuild the cafe. He also wants to create an igloo village, with rooms where people can spend the night.