Healdsburg, California —(Map)
Students at an elementary school in California, with the help of their art teacher, created a telephone hotline that people can call to get cheerful advice from kids during difficult times. In just days, the hotline began getting thousands of calls an hour.
The hotline is available in English and Spanish. It offers the happy voices of children of different ages sharing positive messages. For example, by pressing 3, you can hear a group of kindergartners saying together: "You can do it! Keep trying, don't give up!" Pressing 4 triggers the sounds of children giggling and laughing – a sound certain to bring a smile to anyone's face.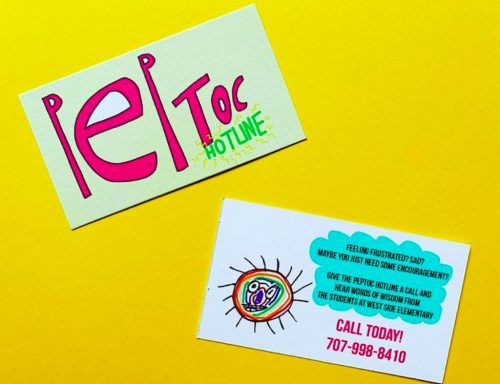 Most people agree that with concerns like Covid-19, extreme weather, and the climate crisis, the last couple of years have been stressful. In the last month, with Russia's invasion of Ukraine, things have become even more tense.
Jessica Martin, who teaches art at West Side School in Healdsburg, California, thought her students just might have the magic words needed to bring calm to people in these difficult times. "To hear the pure joy from kids is extremely comforting," she says.
Ms. Martin, along with artist Asherah Weiss, worked with students at West Side on a project they called "PepToc". Actually, they called it "Pep Talk" first. But when Ms. Martin's 6-year-old son drew an ad for the hotline and spelled it "PepToc", they decided they liked that even better.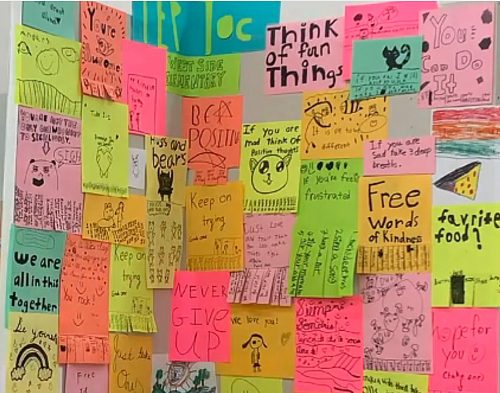 The project had two parts – one was the hotline, and the other was creating encouraging posters. Most of the project was completed in a day. The two adults worked with students from Kindergarten to sixth grade. They had the same basic question for all the students: "What could you say to help or encourage someone else?"
Students working on the hotline thought of what they would like to say. When they were ready, Ms. Martin recorded each one. Later, she sorted out the recordings into the different parts of the telephone hotline.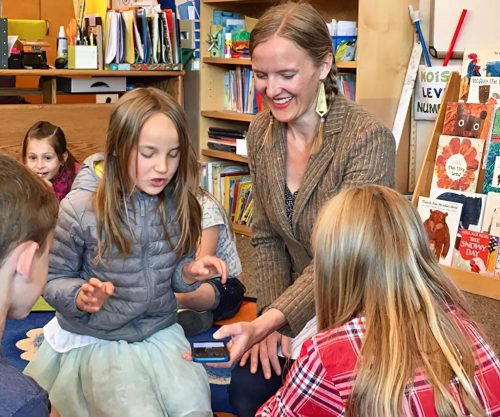 Pressing 1 brings up ideas for people who are "feeling mad, frustrated, or nervous". Helpful suggestions include: "punch your pillow", "do flips on the trampoline", or "go get a cookie".
Pressing 2 results in "words of encouragement and life advice". This includes messages like: "The world is a better place with you in it." And "You are okay!"
Other students took part in making encouraging posters, which were hung up around the town. Many posters had strips of paper that people passing by could tear off and take with them. For example, one poster said "If you are mad, think of positive thoughts", and had tear-off strips reminding people to "Be happy".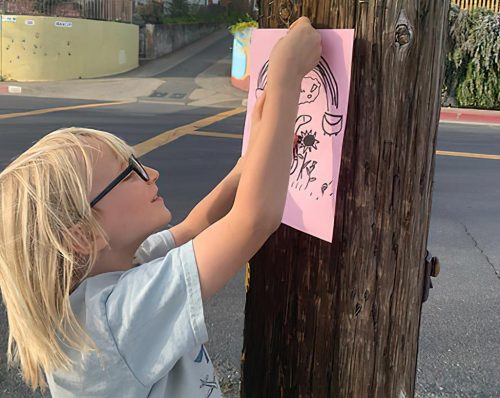 Ms. Martin thought the project would only attract interest from people near the school. But the hotline was soon getting hundreds of calls a day – and then, thousands of calls an hour.
Word of the hotline spread quickly on social media. The hotline has become incredibly popular with stressed adults, patients in hospitals, older people in homes, and others who just want to hear the happy voices of children.
If you're in the US and you want to give the PepToc hotline a call, the number is: 707-998-8410.
---
Did You Know…?
Demand for the service quickly ate up all the phone time that the school had paid for. The school has now set up a
special site to raise money to keep the hotline going
. Ms. Martin plans to add more student messages to the hotline in the future.
😕
This map has not been loaded because of your cookie choices. To view the content, you can accept 'Non-necessary' cookies.