Senate Approves Ketanji Brown Jackson for Supreme Court
On Thursday, the US Senate approved Ketanji Brown Jackson, US President Joe Biden's choice to be the next justice of the US Supreme Court. Judge Jackson is the first Black woman to be appointed to the Supreme Court. Mr. Biden described the event as "a historic moment for our nation".
The Senate confirmed the next justice by a vote of 53-47. Three Republicans joined all 50 Democrats in voting to support Judge Jackson. Judge Jackson was strongly opposed by all other Republicans. Visitors to the Senate joined senators in standing and clapping for several moments after the results were announced.
😕
This image has not been loaded because of your cookie choices. To view the content, you can accept 'Non-necessary' cookies.
Judge Jackson will take over from Justice Stephen Breyer, 83, who is stepping down this summer. Judge Jackson's views are similar to those of Justice Breyer, so the court isn't expected to change much once she joins. But since she's only 51 years old, Judge Jackson is expected to remain on the Supreme Court for a long time.
Pakistan's Prime Minister Likely to Face No-Confidence Vote
Despite working hard to avoid it, Pakistan's prime minister, Imran Khan, is likely to face a no-confidence vote in Parliament. For over a week, members of Parliament have been trying to hold the vote. Opposition leaders say they have 172 votes (out of 340) needed to remove Mr. Khan as prime minister.
On Sunday, just before the vote was supposed to be held, a supporter of Mr. Khan's "dissolved" Parliament. Mr. Khan called for early elections and blamed the effort to remove him on the US.
😕
This image has not been loaded because of your cookie choices. To view the content, you can accept 'Non-necessary' cookies.
On Thursday, Pakistan's Supreme Court ruled that the decision to dissolve Parliament went against the country's Constitution. The Supreme Court has ordered Parliament to meet once again on Saturday, when it can hold its no-confidence vote.
If Mr. Khan loses the vote, as is expected, the opposition can name its own prime minister. A new prime minister would finish the rest of Mr. Khan's term, which ends in August of next year. In Pakistan's 75 years as a country, no prime minister has ever served the full five-year term.
Drone Company Plays April Fools Joke on Dallas
Sky Elements is a company that puts on shows using large numbers of flying drones with powerful lights. But on April Fools Day (April 1), they decided to play a joke on the entire city of Dallas, Texas.
One of the oldest tricks on the internet is getting people who don't expect it to watch a video of pop star Rick Astley singing his song "Never Gonna Give You Up". The trick is so well known that it even has its own name – to "Rick Roll" someone.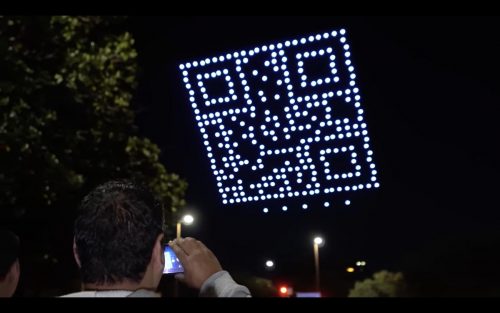 On April 1, Sky Elements flew 300 drones over Dallas and had them form the shape of a QR code. When a QR code is scanned by a smartphone, it can be turned into a short sentence or a link to a web address.
Sky Elements says it "Rick Rolled" the entire city of Dallas, since anyone who scanned the QR code created by its drones was sent to view the Rick Astley video.
---
Did You Know…?
QR codes can be easier than typing out a long web address, but you need to be careful with them. What Sky Elements did in Dallas was a harmless joke. But QR codes can also be used to send people to sites that are harmful.