Paris, France —(Map)
Emmanuel Macron was re-elected as president of France on Sunday, defeating Marine Le Pen. It is the first time in 20 years that a French president has been elected to a second term.
Mr. Macron won the election with 58.2% of the vote to 41.8 % for Ms. Le Pen. Though it was a strong win for Mr. Macron, it was much closer than when he was first elected in 2017. At that time, he beat Ms. Le Pen 66% to 34%.
The election of Mr. Macron will make it easier for Europe to remain united in its efforts to support Ukraine against Russia. Mr. Macron has long argued that it is important for Europe to work together and become a strong international power. Russia's war on Ukraine has led many people in France and across Europe to agree with this idea.
But even though Mr. Macron won the election, he is strongly disliked by many in France. Many people think he acts like a king, and is out of touch with what life is like for ordinary French people. A large number of voters chose Mr. Macron in this election simply to stop Ms. Le Pen.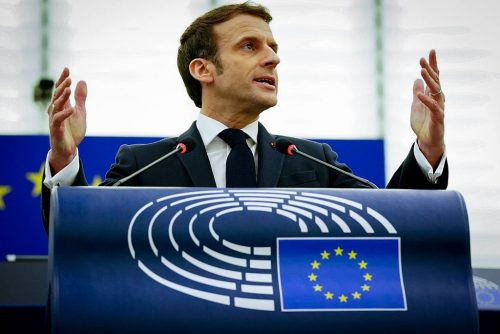 When Mr. Macron was elected in 2017, he planned many changes to make the country more modern. In some ways, life has improved under Mr. Macron. But many of his plans upset French citizens. The long-lasting Yellow Vest protests were a strong sign of how angry many French people were.
That anger helped Ms. Le Pen. She made progress by softening some of her more extreme views. She went out of her way to show that she understood the challenges facing ordinary people as prices continue to rise.
Ms. Le Pen did not drop her ideas about immigrants. She wants to put serious limits on the immigrants allowed into the country, and the services they are given. Ms. Le Pen also wanted to ban Muslims from wearing scarves on their heads in public places. That plan left many people upset.
But it was Ms. Le Pen's views on Russia, NATO, and the European Union which would have caused the biggest shift if she had been elected. Ms. Le Pen has long been a supporter of Russian President Vladimir Putin, and has worked to limit the part France plays in NATO and the European Union.
Mr. Macron will now have five more years as France's president. That's fairly unusual in France. But he will face difficult times ahead, since he still plans to continue some of his unpopular programs.
His next big challenge will be to get support in Parliament. Elections for the National Assembly – the lower house of France's Parliament – will be held in June. Mr. Macron's political party and its allies will need a majority in Parliament in order to act on many of his plans.