Scientists at the Massachusetts Institute of Technology (MIT) have released a study on a subject they call Oreology – how Oreo cookies twist apart. The study's results show that the Oreo's white cream almost always winds up stuck to just one side of the cookie.
Oreo cookies are sometimes called "sandwich cookies" because they look like a sandwich. On the outside are two hard cookies, called wafers. On the inside is the sweet cream filling (sometimes spelled "creme"). People eat Oreos many different ways. But one popular way is to twist the two sides apart and eat them separately.
Crystal Owens is the lead author of the study. She says that as a child, she ate Oreos by twisting them open, and was often surprised that the cream wound up on just one side of the cookie.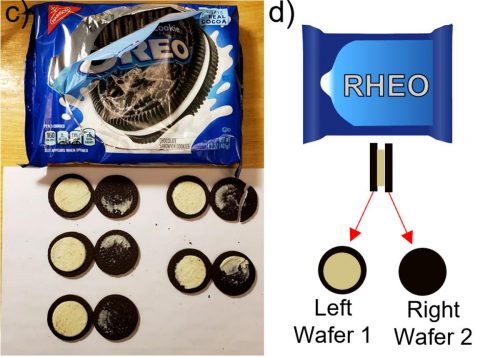 As an adult, Ms. Owens studies the way fluids behave. Fluids are materials that can flow. This includes liquids like water or milk, but also thicker materials like toothpaste or peanut butter. …Or the cream in an Oreo.
A common test for scientists studying these materials is to see how they change when they are put between two surfaces and twisted. Scientists use a special machine called a rheometer, to measure fluids as they are twisted between two flat plates. Ms. Owens realized that this was very similar to an Oreo.
Ms. Owens wanted to see if you could use a rheometer to open an Oreo so that each side of the opened cookie would have cream on it. "I had in my mind that if you twist the Oreos perfectly, you should split the cream perfectly in the middle," said Ms. Owens.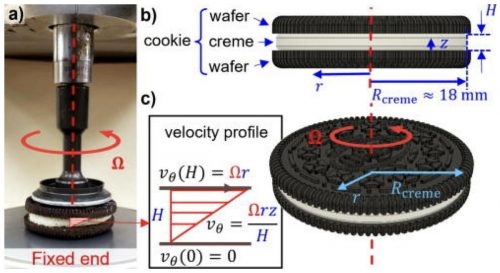 So she and others at MIT began to run tests. They attached Oreos to a rheometer and began a series of carefully controlled twisting experiments. The team tested roughly 20 boxes of Oreos of all kinds. No matter what, the cream almost always wound up stuck to just one side.
The researchers think the reason for this probably has to do with the way Oreos are made. Ms. Owens notes that videos of Oreos being made show the cream being squirted onto one wafer before the second wafer is placed on top. "That little time delay may make the cream stick better to the first wafer," she says.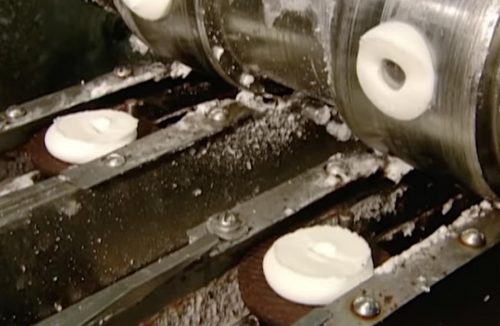 Though the experiment was fun, it has a serious side. Ms. Owens is currently studying special fluids for 3D-printing complicated devices, including electronics. She says that the Oreo experiment can help her design better "ink" for this kind of printing, since the fluids behave in similar ways.
The MIT team also wanted to encourage others to explore science in the world around them. They designed and 3D-printed a special rheometer just for twisting open Oreos. They called the device an "Oreometer".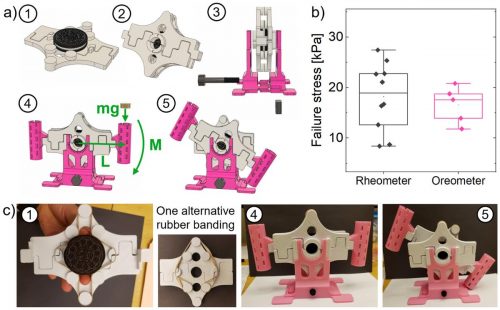 The team has shared the designs, so that anyone can 3D-print their own version of the tool. The Oreometer uses simple objects like coins and rubber bands to give home scientists control over the way the device twists open cookies.
---
Did You Know…?
The MIT team also learned that it's easier to open Oreos by twisting them slowly. They say that twisting them quickly is actually harder and makes the cookies more likely to break.