Over 100 Killed in Nigerian Oil Explosion
Over 100 people were killed last Friday in an explosion at an illegal oil processing factory in Nigeria. The accident happened in the Niger Delta, along the border between Rivers State and Ivos State. The blast triggered a fire, which spread rapidly among the oil containers.
Many large oil companies have operations in Nigeria, since it has lots of oil. Despite this, many of Nigeria's people are poor. This has led to a common criminal business in the country – stealing oil from pipelines and reselling it. Up to 200,000 barrels of oil a day are stolen in Nigeria.
😕
This image has not been loaded because of your cookie choices. To view the content, you can accept 'Non-necessary' cookies.
The oil stolen is usually "crude oil" which needs to be processed into other fuels like gasoline (petrol), diesel, and kerosene. This processing is done at illegal refineries, often hidden in remote areas on the creeks of the Niger Delta. These refineries are poorly built and cause serious pollution to Nigeria's waters. They are also extremely dangerous for those who work there, since accidents are common.
Nigeria has made efforts to crack down on illegal oil refineries but without much success. The government is now searching for the owners of the refinery which exploded last Friday.
Beijing, China to Test Nearly 22 Million for Covid-19
On Monday, the government of Beijing, China announced plans to test nearly all of the 22 million people who live there for Covid-19. Cases of Covid-19 have been rising in the Chinese capital. The government wants to avoid locking down the city, so it's beginning testing early. Testing was delayed in the crowded city of Shanghai, and people there have been locked down for over two weeks.
😕
This image has not been loaded because of your cookie choices. To view the content, you can accept 'Non-necessary' cookies.
Long lines of people have been waiting in front of outdoor testing stations. The government has promised that there will be no shortages. But concerns about a possible lockdown drove many people to buy lots of food just in case.
Since the new coronavirus first appeared, China has taken strong steps to completely get rid of the virus every time it appears. At times it has been difficult to stick to this strict "zero-Covid" program. Recently, more people have been sharing their anger over the government's handling of Covid-19.
Cutting Down On Salt With Electric Chopsticks
Scientists in Japan have developed electric chopsticks that are designed to help people cut down on salt. Though human bodies need salt, many people eat far too much of it, which is unhealthy. The special chopsticks use a tiny bit of electricity to make food seem saltier than it is.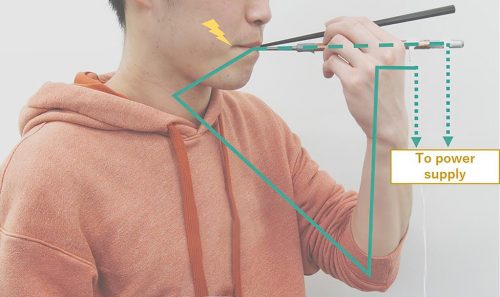 Kirin, a Japanese company that sells foods and drinks, worked with researchers at Miyashita Laboratory to develop the chopsticks. The chopsticks have a battery pack that can be worn on the wrist. When the tips of the chopsticks are put in the mouth, a very light electric current – too small to be felt as a shock – changes the way the tongue tastes certain chemicals.
Experiments showed that with the chopsticks, food could have up to 30% less salt and still taste just as salty. So far Kirin hasn't announced plans to sell the chopsticks. But it is looking into ways the technology could be used with other eating utensils, including spoons.