Canberra, Australia —(Map)
Labor party leader Anthony Albanese was sworn in as Australia's new leader on Monday, as the ruling Coalition government was voted out. The result marks a huge change, as Mr. Albanese becomes Australia's first Labor prime minister in nine years.
Mr. Albanese, who's 59, has been a member of Parliament for 26 years. He came from a simple background. He was raised by a single mother, living in housing supplied by the government. Speaking of his rise to become Australia's leader, Mr. Albanese said, "I hope that my journey in life inspires Australians to reach for the stars."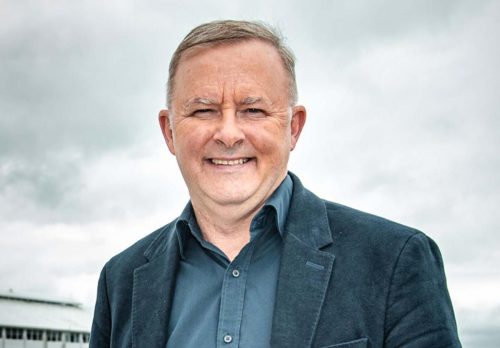 In a speech on Saturday, Mr. Albanese said, "I'm honored to be given the opportunity to serve as the 31st prime minister of Australia." He promised to work to bring the country together. Mr. Albanese also promised increased action on the climate crisis and strong support for the rights of women and indigenous people.
For Ex-Prime Minister Scott Morrison, the election results are a huge defeat. Though he's the first Australian prime minister since 2007 to serve a full term, many voters were clearly upset with Mr. Morrison and his Liberal-National Coalition.
Mr. Morrison has been blamed for not taking the concerns of voters seriously enough in many areas, including the climate crisis, women's rights, and the effects of natural disasters like wildfires and flooding. Mr. Morrison says he will step down as the leader of Australia's Liberal party. It's not clear who will become the Liberal party's next leader.
Mr. Morrison's Liberal party wasn't just defeated by the Labor party, but by large numbers of independent candidates, many of them women. The success of these independents suggests that voters were very unhappy with the way the government was working.
Voters also seemed to be clearly supporting stronger action on the climate crisis. The Green party, with its focus on the environment, increased the number of seats it holds in Parliament. Many of the independent candidates who did well also promised to focus on climate action.
In Saturday's speech, Mr. Albanese spoke of ending the "climate wars". He says he wants to make Australia a "renewable energy superpower". Despite the election results, it will require a strong effort for Labor to make big changes in the country's energy plans.
Under Mr. Morrison and his Coalition, there was massive support for fossil fuel efforts. The government has already promised billions to support coal, oil, and gas projects. Fossil fuel businesses provide lots of Australian jobs. But Mr. Albanese will need to work hard at cutting fossil fuels if he wants the support of the Green party or independent members of Parliament.
Even though he does not yet have a majority in Parliament, Mr. Albanese was sworn in as prime minister on Monday. That was done so that he could attend important talks in Japan. On Tuesday, he will meet in Tokyo with Japanese Prime Minister Fumio Kishida, US President Joe Biden, and Indian Prime Minister Narendra Modi.