Kyiv, Ukraine —(Map)
Last Thursday, students across Ukraine headed back to school. But six months after the country was invaded by Russian forces, the experience of going back to school in Ukraine is very different than it was last school year.
The first day of school in Ukraine is considered very important. It's called the "Day of Knowledge", and it's a national holiday. Students dress up in special Ukrainian clothes and bring flowers to their teachers. Young students just starting school get to ring a bell to mark the start of the school year.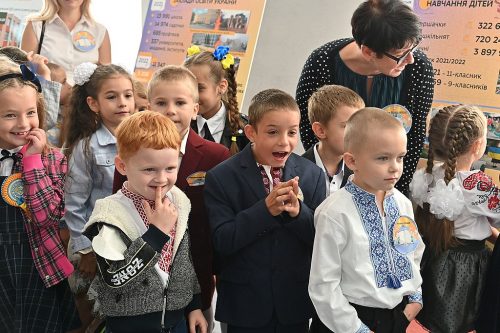 This year, many of those traditions were still being followed. But after six months of war, things felt very different than before. Students were still excited about the start of the school year. But that excitement was also mixed with worry.
Even after the war started, many people thought schools would be safe places. They were wrong. Ukraine's government says that Russia has completely destroyed 269 schools. Over 2,100 other schools have been damaged by Russian missiles and bombs.
But there has been a great effort across Ukraine to fix up schools in time. About 51% of the schools in Ukraine have re-opened for in-person learning. During the first day, one big focus at in-person schools was how to stay safe in an emergency. These schools also allow students to study over the internet.
For all other Ukrainian students, online classes are the only option.
There are many reasons why students might need to take classes online instead of in-person. Clearly, that's true in areas where fighting is going on, as well as for students at schools that were damaged or destroyed. To protect students, Ukraine has a new rule that all schools must have a bomb shelter. Schools without a bomb shelter can only offer online classes.
Many schools have too many students for them all to show up in person. That's especially true in the western part of the country, which is seen as safer. Ukraine has roughly six million school-aged children. Because of the war, about 2.8 million of those students have been forced from their homes.
That means that areas in western Ukraine, such as Lviv, have far more students now than last year. And because so many Ukrainians have left the country completely, Ukraine now has fewer teachers than before. Many young Ukrainians have begun this school year in a foreign country.
Things are even more difficult in parts of Ukraine where Russia has taken control. Russia has taken over the education system in these areas. It is trying to force teachers to say that Ukraine is part of Russia, and not its own country. Some teachers and principals have refused to go along, but Russia's military has responded harshly.
Ukraine's government has also been trying to push back against Russia's efforts to rewrite its history. Ukraine President Volodymyr Zelensky said that knowledge about Ukraine's history was very important. In a written message to the country's students, Mr. Zelensky said that knowledge "gives us strength" and "has become our weapon". "'Knowing' and 'defending' always go hand in hand," he said.