Chernihiv, Ukraine —(Map)
Last Sunday, Ukraine President Volodymyr Zelensky presented an award to a Ukrainian who has worked hard to keep people in the country safe. The unusual winner of the award was a small dog called Patron, who has become famous for his bomb-sniffing talents.
Patron is a two-year-old Jack Russell terrier. His owner, Misha Iliev, works for the Civil Protection Service. At first he wanted Patron as a pet for his son. But he soon realized that the dog was very clever and had an extremely strong nose.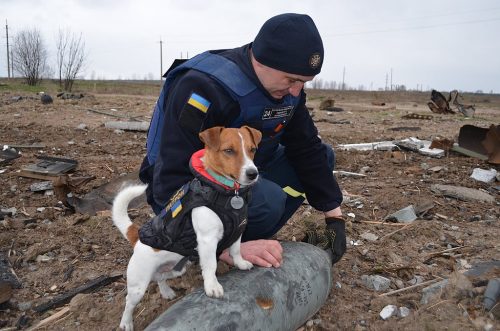 So at the age of six months, Patron began to get training. The idea at the time was to use Patron to show off the kinds of skills that dogs could learn. But soon after Russia attacked Ukraine, it became clear that Patron could help with far more serious work.
Patron is now trained to sniff out gunpowder. This means that he's able to detect bombs and other devices that can explode. After Russian forces pulled back from areas in northern Ukraine, Ukrainian soldiers discovered that the Russians had left behind lots of mines.
Working with Mr. Iliev, Patron now helps Ukraine's Emergency Service find and remove mines left behind by Russian soldiers. He works mainly in the city of Chernihiv. So far, Patron has found 236 mines.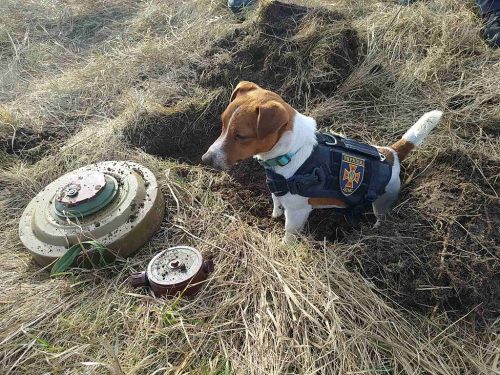 After Patron locates a mine, soldiers trained in handling explosives can safely remove it. It's hard and dangerous work. But Patron is a happy dog and helps others keep going, even when times are tough. "He can inspire anyone," says Mr. Iliev.
Pictures and videos of Patron at work, wearing his protective jacket have spread on the internet. The little dog has become extremely famous in Ukraine. People across the country have begun to send in artwork with their drawings of him. Some people have even knitted stuffed animals that look like Patron.
Children seem to especially love the little dog. Several pictures have been posted of smiling children holding or petting him. Last month, Patron made a visit to a children's hospital in the country's capital, Kyiv.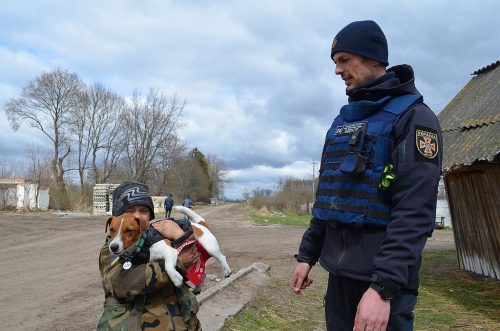 Ukraine's government is using Patron in another way – to help children understand that they need to be careful around mines. It's a sad reality that children in parts of Ukraine need to be aware of mines, and be extremely careful if they see anything that looks like a mine.
On Sunday, Mr. Zelensky presented Patron and Mr. Iliev with the "Order for Courage" award for their service to Ukraine. Mr. Zelensky described them as "Ukrainian heroes who are already clearing our land of mines." The Ukrainian president also thanked Patron for helping teach children how to be safe around mines.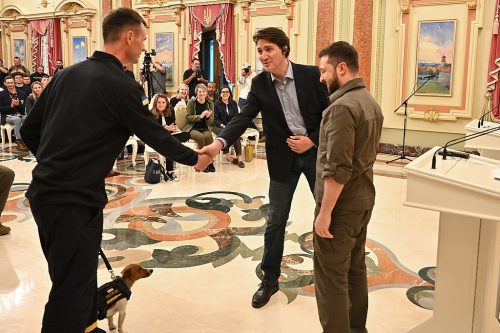 It's not all work for Patron, though. He is reported to be very fond of having his belly rubbed. And Mr. Iliev says, "Patron just loves cheese." But still, a young, very active dog gets tired. So it's not surprising that, during a meeting with reporters on Sunday, Patron did what came naturally – and fell asleep.
😕
This map has not been loaded because of your cookie choices. To view the content, you can accept 'Non-necessary' cookies.