Typhoon Hinnamnor Sweeps Through South Korea
On Tuesday, South Korea was hit by the most powerful typhoon the country has seen in years. Typhoon Hinnamnor struck in the early morning, with winds of nearly 90 mph (145 kph). The country's southern coast, near Busan, was hit particularly hard. On the resort island of Jeju, the typhoon dumped over 40 inches (1 meter) of rain.
The storm destroyed roads and knocked down trees and power lines. It left around 66,000 people without electricity. But the typhoon passed over South Korea in about two hours, which limited the damage.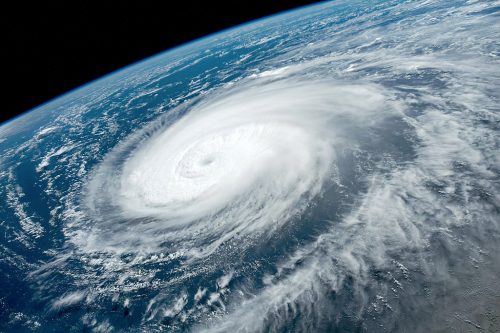 The country also prepared well for the storm, closing roads and schools, and encouraging people to go to work later than normal. About 14,000 people were evacuated from their homes before the storm hit.
The typhoon came just three weeks after heavy rains caused deadly flooding in the capital, Seoul. Hinnamnor is now losing strength, and is expected to reach eastern China later this week.
😕
This image has not been loaded because of your cookie choices. To view the content, you can accept 'Non-necessary' cookies.
Western US Bakes in Record Heat
Roughly 45 million people in nine states in the western US are facing extreme heat. A large high-pressure weather system is holding the heat in place. The record-setting heat is causing health problems and huge demands on energy supplies.
This is the second week of high temperatures in California, where records are being broken across the state. On Sunday, Los Angeles hit 103º Fahrenheit (F) (39.4 Celsius (C)). That's 20ºF (11ºC) above average, and the hottest it's been all year. Worse, temperatures aren't cooling off much at night.
Cities have set up cooling centers. Some are offering motel rooms to homeless people. Experts are encouraging people to drink plenty of liquids and be careful when working or exercising outdoors.
😕
This image has not been loaded because of your cookie choices. To view the content, you can accept 'Non-necessary' cookies.
As people struggle to stay cool, energy demands have shot up. Governments have encouraged people to save energy, and there are signs that people are trying. Even so, people in California have been told they should prepare for blackouts.
Temperatures are expected to remain high for several more days, but should drop by the weekend.
Pakistan Races to Drain Manchar Lake Before It Overflows
Workers in Pakistan are racing to safely drain water from the country's largest lake. Experts say Manchar Lake is very close to seriously overflowing. If that happens, the waters could completely flood nearby villages. Already, 100,000 people in the area have been evacuated. If the lake overflows, hundreds of thousands more people could be affected.
Earlier efforts to drain water from the lake didn't work well. So workers are trying to make a larger hole to allow more of the lake's water to safely escape. The government is also trying to add extra support to the walls that protect the villages against flooding.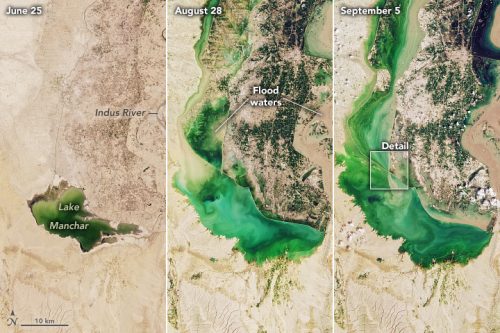 Pakistan has been struggling with massive flooding caused by extremely heavy rains. Roughly one-third of the country is underwater. The flooding has affected at least 33 million people and left over 1,350 people dead.
Not only has the flooding forced millions of people from their homes, it has created conditions that allow diseases to spread. The flooding has made it nearly impossible for many people to get clean drinking water. Since July, emergency hospitals have treated over 850,000 patients.