Sukkur, Pakistan —(Map)
Flooding across Pakistan caused by monsoon rains has killed over 1,000 people and forced more than 33 million people from their homes. The government has declared a national emergency and asked for help from other countries.
Pakistan is a country with lots of mountains and many rivers. Earlier this year, Pakistan and nearby India struggled with extreme heat and drought. But since June, Pakistan has had a very different problem – floods from monsoon rains.
Every year, Pakistan depends on monsoons from the Indian Ocean to bring rain for its crops, and to refill its lakes and reservoirs. But in recent years, the monsoons have gotten stronger, and are causing more damage. The government says the flooding this year is similar to 2010, when Pakistan had its worst flooding ever.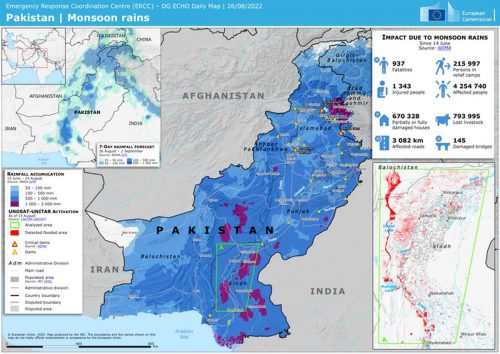 Flooding from the monsoons began in June. The rains have continued since then, increasing the flood damage, and the number of people affected. The government says that so far, 1,033 people have died because of the flooding.
Pakistan's heat wave earlier this year was part of the problem, causing mountain snow and ice from glaciers to melt. Rivers, large and small, have overflowed their banks. Floods have washed away roads and bridges and destroyed buildings across the country. Close to a million homes have been damaged or destroyed. The floods have affected about one out of every seven people in Pakistan.
Much of the recent flooding has been in the northwest, where the Swat and Kabul Rivers have flooded. In Khyber Pakhtunkhwa province, 14 hotels were washed away by the flooding.
Many rivers feed into the powerful Indus River, which runs through much of Pakistan. The Indus is causing similar problems farther south, especially in the provinces of Balochistan and Sindh.
In Sindh, huge areas of farmland have been flooded. Near the city of Sukkur, the only dry places are roads or railways that were built higher than the surrounding area. Tens of thousands of people are now living in tents along these high spots. Many brought farm animals, or any items they could save from their homes.
The cost to the country has been huge. The government says over 3,125 square miles (8,100 square kilometers) of farms have been flooded. Roughly 1,926 miles (3,100 kilometers) of roads have been ruined, and 149 bridges have been knocked down by the floods.
The government has declared a national emergency. Soldiers and rescue groups are working to help people in flooded areas get to safety. The rain and flooding is expected to continue this week, and thousands more people have been ordered to evacuate for safety.
The government says it will pay people who have lost their homes. "We will not leave our people alone in this tough time," the country's information minister said. To support their efforts, the government is trying to raise money from rich people in the country.
Pakistan has also asked for help from other countries. Because the flooding is closely tied with climate change, the government says Pakistan is suffering because of pollution that mainly came from other places in the world.
---
Did You Know…?
The United Nations says it is trying to raise $160 million to help out people affected by the floods.