This week, the American Library Association (ALA) and several other groups are marking "Banned Books Week". The goal is to make people aware of efforts to restrict certain books, and to work to protect the freedom to share ideas – even unpopular ideas.
The first amendment to the US Constitution gives people the right to say – and print – what they want. That means most books aren't actually banned – they're allowed to be printed and sold. But that hasn't stopped people from challenging books, and trying to get them removed from schools, libraries, and even bookstores.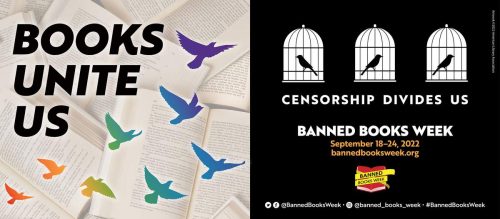 Banned Books Week (BBW) began in 1982. It was organized in response to a sudden rise in the number of books that were being challenged in schools and libraries. The goal of BBW is to support "the freedom to seek and to express ideas", even if those ideas are unusual or unpopular.
The ALA says there has been a huge increase in challenges to books recently. In 2021, the group reported a record 729 efforts to remove or restrict 1,597 titles. The ALA says this year is likely to be even worse. By the end of August, there had already been 681 efforts to limit 1,651 titles.
Historically, the books that people have challenged have often been honored for being excellent books. Several books that are thought of as "American classics" have been pulled from bookshelves. Examples include Mark Twain's "Huckleberry Finn" and Maya Angelou's "I Know Why The Caged Bird Sings".
😕
This image has not been loaded because of your cookie choices. To view the content, you can accept 'Non-necessary' cookies.
Local schools and school libraries are often the target of book bans. In the past, many challenges were about single books, and the challenges usually happened locally. Sometimes the challenges came after parents became upset about a book their child was reading.
But the ALA reports there's been a change in the way book challenges are happening. Now the ALA says it's common for several books to be challenged at once. And many challenges seem to be politically organized and widespread.
Most people agree that not all books are appropriate for young children. The disagreements often come over who decides what's appropriate. This becomes more difficult in middle school and high school, as readers become young adults.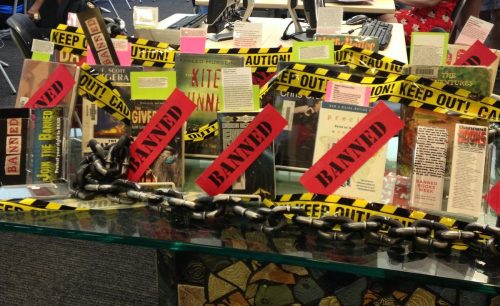 Another big question is "What happens when a book isn't right for all ages?" BBW organizers argue that the book should remain on library shelves. Then students and their families can decide whether or not to read the book. When books are removed from schools and libraries, people aren't allowed to make their own choices.
Why Are Books Challenged?
Books have often been challenged for the language they use, including swear words. Some books have been banned for the way they talk about sex.
😕
This image has not been loaded because of your cookie choices. To view the content, you can accept 'Non-necessary' cookies.
It has also become common for books to be challenged for their ideas. Or at least for what people believe are the ideas in a book. People who challenge books haven't always read the books they want to restrict.
The ALA says that many of the books that are commonly challenged tell the stories of minorities. These include books that represent LGBTQ people, Black people, Native Americans, and other minorities.
Note: This article has been edited to correctly reflect that Maya Angelou wrote "I Know Why The Caged Bird Sings".