Tehran, Iran —(Map)
Large protests are being held across Iran. The protests follow the death of a young woman who was arrested because of the way she was dressed. The protests have continued despite dozens of people dying, and the government promising to crack down harder.
The protests were triggered by the death of Mahsa Amini. Ms. Amini was a 22-year-old woman who was visiting Iran's capital, Tehran. She was arrested by Iran's "morality police" because of the way she was wearing her head scarf. Three days after she was arrested, she had died.
Since 1979, Iran has followed a very strict version of the Islamic religion. There are strict rules for everyone, but many Islamic rules focus on how women must behave and what they can and can't do.
Those rules became even stricter after Ebrahim Raisi became president last year. The morality police are in charge of making sure that people follow these rules.
In Iran, women are expected to wear head scarves, known as hijabs. These hijabs are supposed to cover the head, neck, and hair, but usually leave the face uncovered. Ms. Amini was wearing a hijab when she was arrested, but reports say it didn't cover all of her hair.
Police said that Ms. Amini died of a heart problem. But her family says she was young and in good health. They claim she was beaten.
The death of Ms. Amini made people across the country very angry. Protests broke out in many cities across Iran. As a way of protesting, many women took off their hijabs and burned them. Some women have been cutting their hair. Protesters chanted "Woman, Life, Freedom".
The government quickly cracked down on the protests. They used water cannons on the protesters and even shot at them with bullets. Hundreds of people have been arrested, hundreds have been injured, and at least 50 people have died.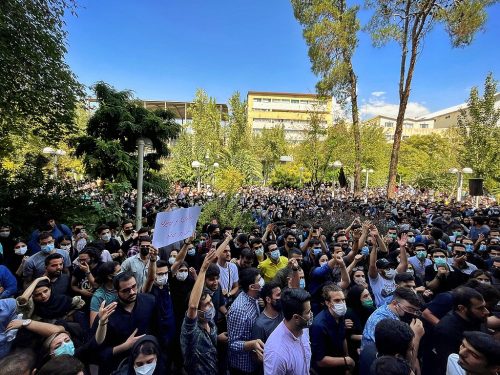 The government has slowed or blocked the internet and social media in some areas. That's meant to make it harder for protesters to organize, and to prevent images and videos of police violence from being shared.
But the government's violent crackdown hasn't stopped the protests. Instead they've grown into the country's largest protests since 2019. Many people want the strict religious rules to be relaxed.
Others have joined the protest because living conditions in Iran are so difficult right now. For years, the US and many other countries have had sanctions on Iran to try to force it to end its efforts to build nuclear weapons. That means Iran hasn't had much money coming in from selling its oil. Prices are high, there are food shortages, and many people don't have jobs.
Over the weekend, several thousand people gathered in Tehran and a few other cities to show support for the government. These protests were shown on government TV stations. The government claims it didn't organize the rallies.
Many outside countries have condemned Iran for its treatment of Ms. Amini and the protesters. Large protest rallies have been held in major cities around the world.