Valais, Switzerland —(Map)
Switzerland has opened a massive "water battery" that will help store energy for Europe. The plant works by storing water, which can later be used to generate power. Storing energy is very important as the world depends more and more on renewable energy.
This summer, a $2.1 billion energy storage project called Nant de Drance opened in Valais, Switzerland. The project, which some people call a "water battery", can store more energy than 400,000 car batteries.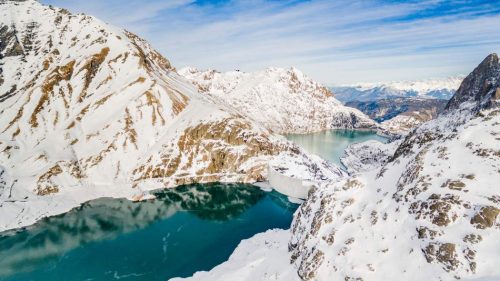 The system works by gravity. There are two large water reservoirs high in the Swiss mountains. One is much higher than the other. The two are connected by a system of tunnels.
When there is too much electricity, Nant de Drance can use that energy to pump water from the lower reservoir to the upper one. As long as the water remains in the upper reservoir, the energy is stored, ready to be used.
😕
This image has not been loaded because of your cookie choices. To view the content, you can accept 'Non-necessary' cookies.
To produce power, water is released from the upper reservoir. Gravity pulls the water down into the tunnels, where it rushes through six large turbines. The turbines produce electricity, which is sent back out.
Though the system is a fairly simple one, building it took 14 years and a lot of effort. The upper reservoir had to be doubled in size. Workers had to create 10.5 miles (17 kilometers) of large tunnels connecting the two reservoirs. That meant carving out huge amounts of rock from inside the mountains. The turbines are located over a third of a mile (0.6 kilometers) underground.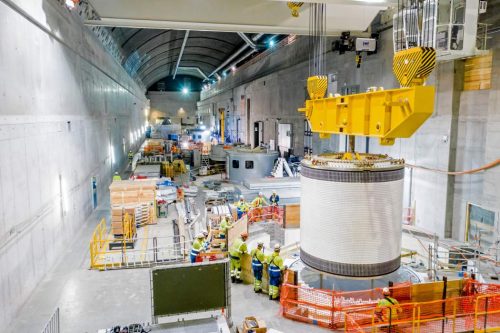 As the world turns more and more to renewable energy sources, being able to store energy is very important. Polluting fossil fuels like oil, gas, or coal can be burned to create energy any time.
But many renewable energy sources only work some of the time. Solar panels only work when the sun is shining, for example. And wind turbines only create energy when the wind is blowing. Renewable energy must be stored if it's going to be ready to use at any time.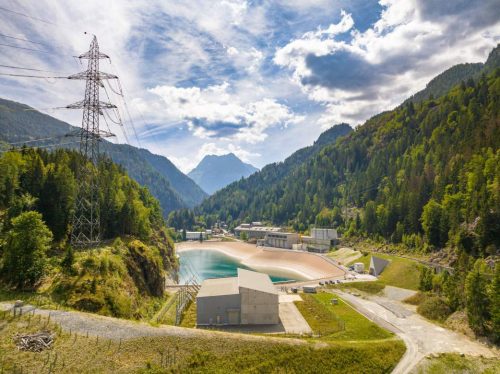 By 2030, Europe aims to have four times as much power storage as it has now. The Nant de Drance project is a big step in the right direction. The project is far bigger than Switzerland needs on its own, so it's expected to help balance Europe's energy supplies. Nant de Drance can switch between storing energy and producing it in just a few minutes.
Using water to store and create energy isn't a new idea. But in the past, many pumped water storage projects involved seriously changing or damaging rivers. Because Nant de Drance is almost entirely underground, it's much more friendly to the local environment. As an added bonus, the system is expected to be reliable and shouldn't require much effort to keep going.
😕
This map has not been loaded because of your cookie choices. To view the content, you can accept 'Non-necessary' cookies.