Ushuaia, Argentina —(Map)
Liam Garner was just 17 years old when he started out on his big adventure – a 20,000 mile (32,000 kilometer) bike trip from Alaska to Argentina. In early January, he finally finished his trip, 17 months after he started.
In 2021, Liam had recently graduated from high school and was looking for a "crazy adventure". He had some experience biking long distances. His longest trip was biking from Los Angeles to San Francisco. He made short videos of that trip, and shared them on the social media app TikTok. Some of his videos became quite popular.
That bike trip helped him decide to tackle a much longer trip. He'd read a book by someone who had biked from Oregon to Argentina. Liam wondered what it would be like to bike from the point farthest north in the United States all the way to the most southern point in South America.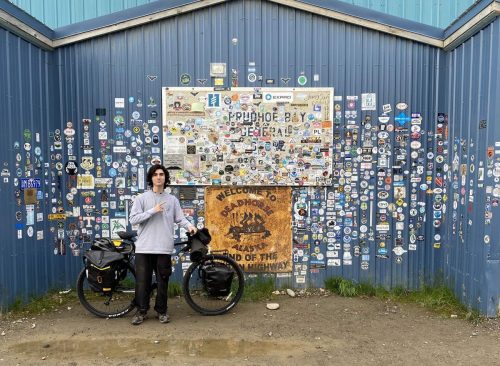 That meant leaving from Prudhoe Bay in Alaska. After preparing for the trip for about a month, Liam set out on August 1, 2021. He had a tent, a sleeping bag, a phone, a first-aid kit, and some spare parts for his bike. Other than some food and water, he didn't have much else.
At first Liam's parents weren't too happy about him taking such a long bike trip by himself. But as he carried on, his parents became his strongest supporters. Liam also got better at making sure he was better prepared for his travels.
Liam wasn't too worried about the path that he took. "As long as I was going south every day, I knew I was going in the right direction," he said. After about three months, Liam had crossed the US, going south along the West Coast. By early December, he had reached Mexico.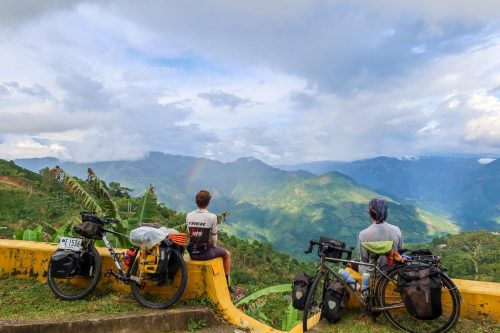 Mexico was one of Liam's favorite parts of the trip. His parents came to the US from Mexico, so it felt special for him to return there. But Liam also faced challenges in Mexico.
For several months, Liam traveled with his friend, Logan. The two were robbed in Mexico. At one point, they considered quitting because the incredible heat made biking extremely difficult. But things cooled down once they reached Central America, and they decided to keep going.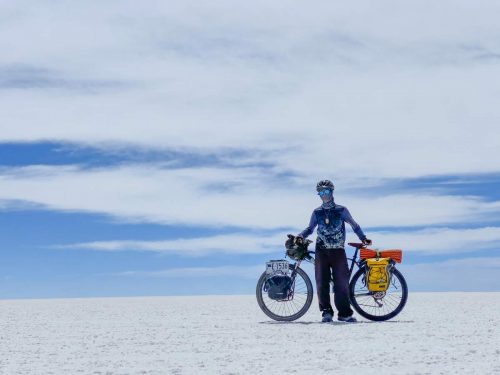 Liam doesn't give up easily. In all, he was robbed five times on the trip. He got very sick more than once. In Colombia, he had a bike accident that left him injured and required surgery. In spite of it all, he kept going. Through rain, sun, heat, cold, deserts and mountains.
Liam finally arrived in Ushuaia, Argentina on January 10, 2023 – 527 days after he started. He had traveled through 14 countries along the way.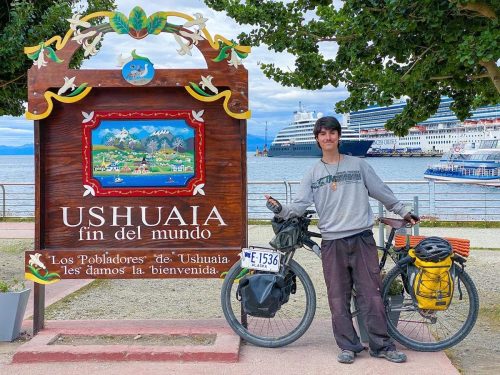 Liam, who's now 19, is backpacking home to California with his girlfriend. When he gets home, he hopes to write a book about his adventures. He also hopes his experience will encourage others to take up biking or start an adventure of their own. "Everyone is capable of amazing things," he says. "The hardest part is getting the confidence in yourself to attempt something."
---
Did You Know…?
The fourteen countries Liam passed through on his trip were: USA, Canada, Mexico, Guatemala, El Salvador, Nicaragua, Costa Rica, Panama, Colombia, Ecuador, Peru, Bolivia, Chile, and Argentina.
😕
This map has not been loaded because of your cookie choices. To view the content, you can accept 'Non-necessary' cookies.