New York City, New York —(Map)
On Tuesday, Ex-US President Donald Trump was charged in a New York court with the crime of creating false business records. During the hearing yesterday, Mr. Trump said he was not guilty of any of the charges. Mr. Trump is the first US president to ever be arrested for a crime.
Yesterday's hearing took place in Manhattan, the island in the heart of New York City. Mr. Trump came to New York from Florida after news broke that he would be charged. Yesterday afternoon, he was arrested and copies of his fingerprints were taken.
In the courtroom, Mr. Trump was charged 34 times with the crime of making false business records. Mr. Trump said he was "not guilty" of the charges.
The case against Mr. Trump is being led by Manhattan District Attorney Alvin Bragg. He charged Mr. Trump after a grand jury of 23 ordinary people studied the case for two months. These people decided there was enough evidence to charge Mr. Trump with the crimes.
Many of the charges against Mr. Trump were the result of a payment that Mr. Trump's lawyer made in 2016 to an actress known as Stormy Daniels. Ms. Daniels claims Mr. Trump had a relationship with her while he was married. Mr. Trump has denied this.
News of a relationship like that might have hurt Mr. Trump's chances of being elected. Mr. Trump's lawyer says Mr. Trump had him pay Ms. Daniels $130,000 to keep the story quiet. Mr. Trump is accused of making similar payments in two other cases.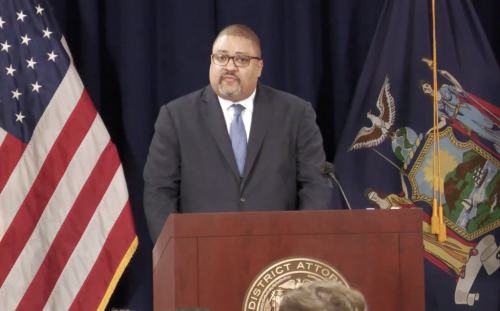 In the New York case against Mr. Trump, these payments are seen as an effort to "influence" the 2016 election. The district attorney says these payments broke election laws.
Mr. Bragg says the case is about "34 false statements made to cover up other crimes". The charges claim Mr. Trump lied in his business records to hide what the payments were really for.
Mr. Trump has been released and has gone back to Florida. The trial won't be held until January, 2024 or later. If Mr. Trump is found guilty, he could be sent to jail for up to four years.
This case is the least of several important cases against Mr. Trump. In Georgia, Mr. Trump may face charges for trying to change the 2020 election results in the state.
Mr. Trump is also being investigated by the US Department of Justice in two other cases. One is for his part in the attack on the US Capitol in January, 2020. The other is for keeping top-secret documents after leaving the White House, and possibly trying to stop the government from getting them back.
Mr. Trump says he is innocent of all the charges. He claims he is being charged with these crimes for political reasons.
Mr. Trump is running for president again in 2024, and is the leading Republican candidate. The charges do not affect his ability to run. Even if he were found guilty, he could still run for president.
---
Did You Know…?
Some people think being charged with a crime could hurt Mr. Trump's chances of being elected, but not everyone agrees. In fact, many people think the charges could help Mr. Trump with his supporters by making him look like a victim of an "unfair" attack. Mr. Trump has already raised $8 million since it became known that he was going to be arrested.