Scientists have brought back to life two tiny worms that had been frozen for 46,000 years. The worms were found in the frozen soil of Siberia. The worms are a new species, and are the oldest living animals ever brought back to life after being frozen.
In 2018, scientists from Russia took a dirt sample from deep in the permafrost in Siberia in Russia. Permafrost is a layer of permanently frozen ground that covers much of Siberia. The sample included frozen soil from a gopher hole about 130 feet (40 meters) below the surface.
The scientists discovered two tiny round worms frozen in the soil sample. The worms were nematodes, so small that they could only be seen with a microscope. Nematodes are very common and can be found in soil and water in nearly every part of the world.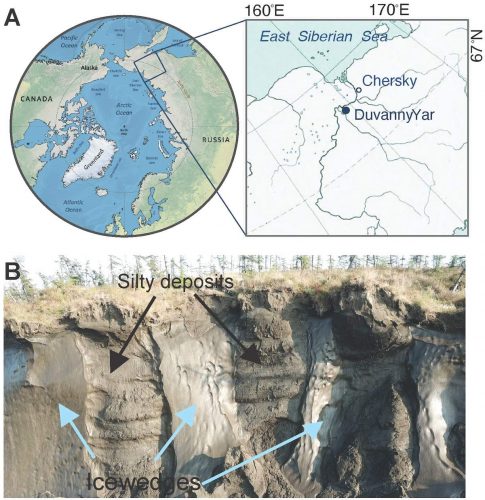 Special tests showed that the soil was extremely old: about 46,000 years old. At that time – 46,000 years ago – there were still Neanderthals and huge woolly mammoths.
Even more amazingly, when the worms were slowly thawed out, they began to move. They were still alive.
Scientists knew that nematodes can live for years if they're frozen. The worms can enter a special state called "cryptobiosis". In cryptobiosis, animals' bodies slow down and use very little energy.
But before this, the longest a nematode had been known to survive through cryptobiosis was about 25 years. Being revived after 46,000 years was a new record for any kind of animal.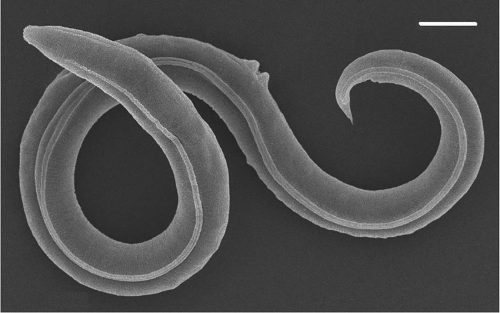 Both of the thawed worms were females. Before long, they began to have babies. Some kinds of nematodes, including these, have the ability for a single worm to have babies all by itself.
The worms were sent off to Germany to be studied further. Scientists there discovered that the ancient worms were a new species of nematode that had not yet been discovered. That's not too surprising, since there are so many species of nematodes. The scientists decided to name the species Panagrolaimus kolymaensis, because they were found by the Kolyma River in Russia.
The researchers in Germany were able to learn more about how the worms survived by studying them. They found that the worms were able to survive being frozen better if they were dried out a little first. The drying helped the worms produce a special sugar called "trehalose", which helped them survive being frozen. Without this sugar, the worms died.

The scientists also studied a nematode species that is common these days. They found that the modern worm also uses trehalose to protect itself in cryptobiosis.
The scientists say that the discovery of the ancient worms may help them understand how living things can survive in harsh conditions. That information could be helpful in the future.
The two original frozen nematodes have now died. But they have lots of living relatives. Their babies had babies who had babies, and so on. There have already been over 100 generations since the first two were thawed. Most of the nematodes only live a month or two. …Unless they get frozen.
---
Did You Know…?
Some scientists say it's not 100% certain that the worms were actually 46,000 years old. They say the researchers only proved that the dirt around the worms was that old.