This article is an update to the story: Buttigieg, Klobuchar Drop Out of Democratic Race.
Joe Biden won a huge "Super Tuesday" victory yesterday, winning 10 of the 14 states which held primary elections. Mr. Biden, who was vice-president under Barack Obama, did far better than expected, and now leads the Democratic race.
Voters in the primary elections don't actually elect candidates. Instead, they earn a certain number of "delegates" – people who agree to support the candidates.
The candidates are racing to get to 1,991 delegates – the number needed to become the Democratic candidate who will face President Donald Trump in November's election.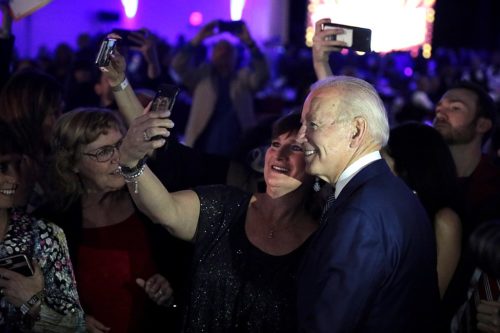 Mr. Biden's success was clear early on as the results came in from southern states. Mr. Biden had strong support from black voters, which seemed to make a huge difference. Mr. Biden was also clearly helped by Pete Buttigieg and Amy Klobuchar dropping out of the race and endorsing him.
Vermont Senator Bernie Sanders, who had the most delegates leading up to Tuesday, won in only four states. But he did take California, which has the most delegates. Mr. Biden currently leads the contest with 566 delegates to Mr. Sanders's 501.
Candidate
Delegates
Joe Biden
566
Bernie Sanders
501
Elizabeth Warren
61
Michael Bloomberg
(No longer running)
53
Pete Buttigieg
(No longer running)
26
Amy Klobuchar
(No longer running)
7
Tulsi Gabbard
1
Billionaire Michael Bloomberg, who has spent nearly $600 million on advertising during his short run for president, dropped out of the race on Wednesday and endorsed Mr. Biden.
Massachusetts Senator Elizabeth Warren won 53 delegates on Tuesday, and is now in third place with 61 delegates. But it's hard to see how she can catch up to the leaders. Earlier, Ms. Warren said she planned to stay in the race until summer, but now she says she's talking with her team about "the path forward".
Many people now believe the contest is now a 2-man race between Mr. Biden and Mr. Sanders.
Update:
On Thursday, Senator Elizabeth Warren announced that she was dropping out of the Democratic race for president. Ms. Warren has not yet endorsed anyone else, but says that she may in the future.