Countries around the world have been hit by record temperatures that have killed some people and sent others to the hospital. The heat is affecting farmers and causing fires as far north as the Arctic Circle.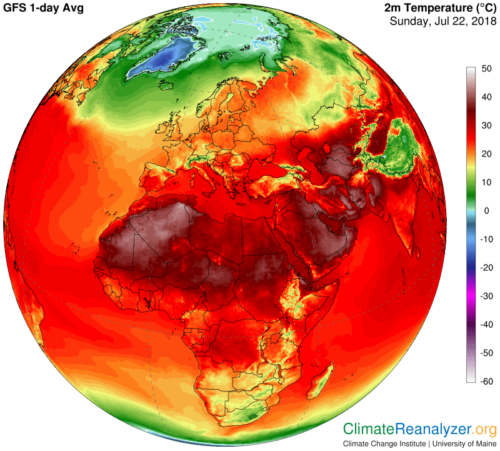 Japan
Japan has been hit especially hard. In Tajimi, in central Japan, temperatures have gotten as hot as 105º Fahrenheit (F) (40.7º Celsius (C)). Over 30 people have died because of the heat and thousands of others have been taken to the hospital. This comes right after Japan was hit by terrible floods.
Japan will be holding the summer Olympics in 2020. Some people are beginning to worry about what it might be like for athletes in 2020 if the temperatures are as hot as they are now.
Sweden
Sweden has only gotten one seventh of the rain it normally gets. "It's very, very dry in most of Sweden," said one expert. But the temperatures in northern Sweden have gotten as hot as 90º F (33º C). That's about 20 degrees F higher than normal.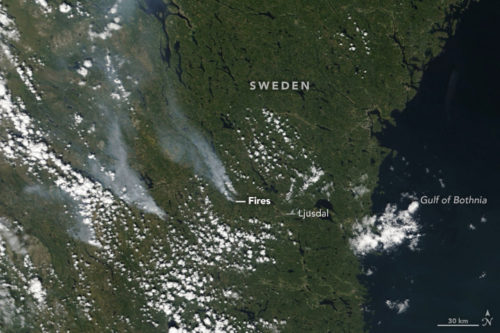 The heat and dryness have led to around 50 wildfires burning in Sweden. At least one of the fires is north of the Arctic Circle. The fires have burned huge areas of forests. France and Italy are helping Sweden to put the fires out. But the hot temperatures are expected to keep going for several more weeks.
Sweden has requested emergency help from the EU to fight dozens of forest wildfires, in the midst of an extreme heat wave that is plaguing the Nordic region.

The blaze engulfed 2,500 hectares (6,000 acres) and was spreading by 10 square meters (100 square feet) per minute. pic.twitter.com/8TpDaxBnzt

— dwnews (@dwnews) July 19, 2018
Europe
All through Europe, the dry weather and hot temperatures are affecting farmers. Some farmers are expecting to grow about half as much as they usually do. Some farmers have decided it's not even worth trying to collect their crops (the things they grow). Farmers who raise cows are not sure where they will get enough food for the animals.
USA
The United States has also been hit. In Chino, California it reached 120º F (49ºC) on July 6. In Texas and other parts of the southern US, temperatures have been above 100º F (37.8º C) for about a week.
Dangerous heat is expanding across the South, and is forecast to intensify across the west this week. Temperatures in the 90s and 100s are forecast this week in the Pacific Northwest, with widespread areas above 110 in the Southwest, and heat indices around 110 in the South. pic.twitter.com/fngZYBLo0j

— NWS (@NWS) July 22, 2018
Africa and the Middle East
Records are being set around the world. Ouargla, Algeria set a record for all of Africa when the temperature there hit 124.3 degrees F (51.3º C) on July 6.
Weather services usually report a high temperature and a low temperature for each day. In Quriyat, Oman, the temperature stayed above 108° F (42º C) for 51 hours. That meant that Oman set a record for the highest "low" temperature ever.
The heat waves are pretty much what scientist expected because of climate change . Human activity and pollution has been causing small temperature increases for years. This has led to the big changes in weather patterns that we are seeing now, including strong heat waves. As one scientist told the Los Angeles Times, "This isn't a big scientific surprise."