Wrightsville Beach, North Carolina —
Two huge ocean storms that scientists have been tracking for days have finally hit land. Yesterday, Hurricane Florence hit the east coast of the US and Super Typhoon Mangkhut struck the Philippines. Both storms are very powerful and are expected to do a lot of damage.
"Hurricane" and "typhoon" are two different names given to the same kind of storm, a cyclone. Whether a storm is called a hurricane or typhoon depends on where the storm starts. When a cyclone begins, it is given a name from a special list. Different parts of the world use different lists.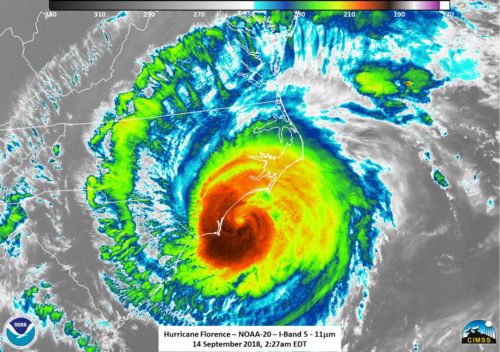 Cyclones form over oceans. The winds spin in a circle toward the center, which is lower in pressure. As the cyclone moves across the sea, it collects water into huge spinning clouds. The water is released as rain as the cyclone hits land. Cyclones can be hundreds of miles or kilometers across.
Hurricane Florence
Scientists have been warning about Hurricane Florence for many days. Early on, Florence was given the most powerful rating a hurricane can have, Category 5. That was because of the speed of its winds. As it came closer to the US east coast, the storm lost speed and the rating was lowered to Category 1. Now it is no longer really called a hurricane, but it is still doing lots of damage.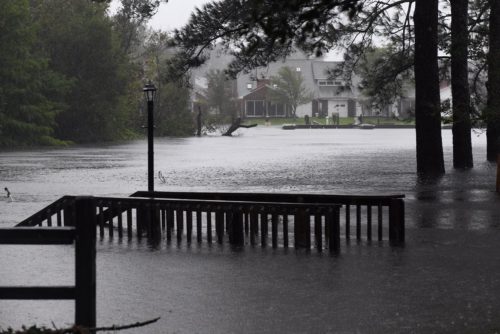 The North Carolina coast has been hit hard by Florence's strong winds and heavy rains. Over a million people are without power. Over 5,000 people have had to leave their homes. Some are surrounded by water and unable to get out. At least five people have died.
One of the biggest worries now is flooding. Florence is expected to drop as much as 40 inches (102 centimeters) of rain. This huge amount of water makes dangerous flooding very likely. Rain and strong seas can cause river flooding even far away from the coast.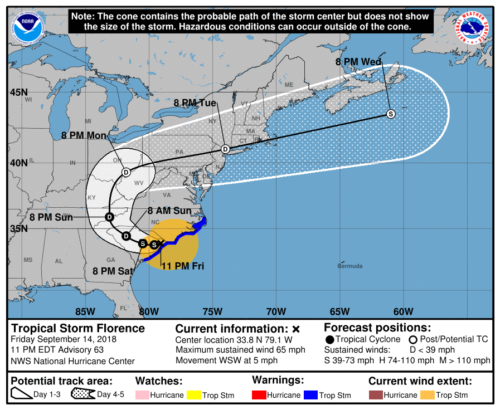 Florence is expected to keep moving west through North Carolina before turning north and then east, losing power as it goes.
Wrightsville Beach, North Carolina
Super Typhoon Mangkhut
Super Typhoon Mangkhut has been traveling across the Pacific Ocean. It has already hit Guam and the Marshall Islands.
It is, in many ways, both bigger and stronger than Hurricane Florence. The storm is 550 miles wide (900 kilometers wide). As it hit the Philippines, its winds were blowing about 120 miles per hour (190 kilometers per hour), with some gusts of wind blowing as fast as 200 miles per hour (320 kilometers per hour). These speeds are like a Category 5 Hurricane.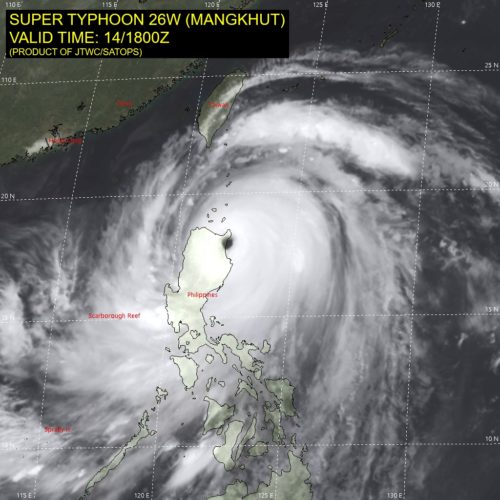 Mangkhut slowed down once it hit land, and, like Florence, it is bringing lots of rain with it. The storm has been hitting the coastal areas hard. Over 15,000 people left their homes to get out of the way of the cyclone.
Lamp and electric posts along Carig Sur Highway in Tuguegarao City, Cagayan were uprooted due to strong winds brought by #OmpongPH.

Stay alert and safe, everyone. pic.twitter.com/S2wG5875XR

— Philippine Red Cross (@philredcross) September 15, 2018
Many of the houses in the Philippines, especially along the coast, are not too sturdy. Many buildings have been destroyed, and others have had their roofs torn off. Many areas have been left without electricity or a way to communicate.
Unless it changes direction, Typhoon Mangkhut will be headed toward southern China and Vietnam once it leaves the Philippines.