Duplin County, North Carolina —(Map)
When Hurricane Florence hit North Carolina last week, it did lots of damage. Strong winds caused some of the problems, but most were from the flooding. And the damage isn't over yet. People around the state are still dealing with the high waters and the problems they bring.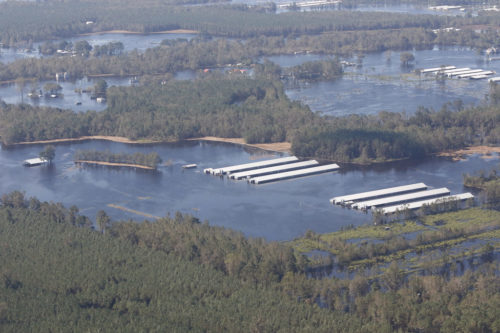 One big problem that will stick around, even after the flood waters go, is pollution from animal farms. In eastern North Carolina, where the storm hit the hardest, there are many large business farms, where animals are raised for food.
In these farms, the animals are packed tightly together. This is done to make it easier for the businesses to feed them. The animals spend their lives in small caged areas and never go outside. The businesses want to grow the animals quickly, so they can be used for meat.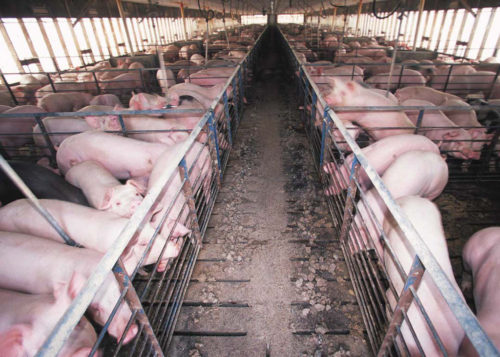 North Carolina has almost as many hogs as it has people. North Carolina also raises lots of chickens and turkeys – more than almost any other state. Birds such as these are often called "poultry". So far, floods from Hurricane Florence have killed about 5,500 hogs and almost 3.5 million chickens.
Having the animals close together works well for feeding. But not so well for pooping and peeing. And with around 9 million pigs and 819 million poultry animals, there is a lot of pooping and peeing. North Carolina's pigs create about 10 billion gallons of waste (poop and pee) a year.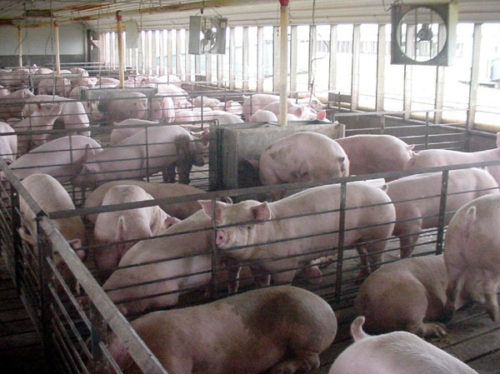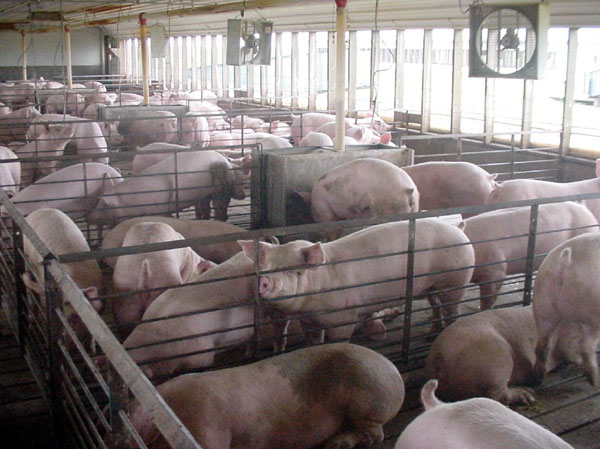 Large pig farms have slots in the floors beneath the animals. This is to let the poop and pee go into open pipes under the floor. From time to time, the waste is washed out and into a big open pond outside. These ponds are called lagoons, and there are about 4,000 of them in the state.
These lagoons full of pig waste are a huge problem. The lagoons can be as large as football fields and 8 to 12 feet (2.4 to 3.6 meters) deep. The farms use tiny creatures called bacteria to help change the pig waste into something a little less dangerous. These bacteria give the lagoons their unusual pink color.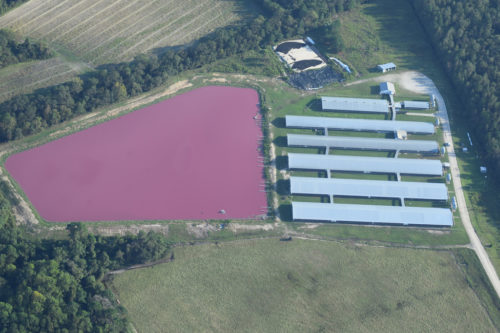 But the pig waste cannot be made completely safe. As it sits in the lagoon, it gives off dangerous gases. And in the liquid are other, bad bacteria, as well as chemicals and medicines. These would be very dangerous to animals and humans if they got out of the lagoon.
That is exactly the problem that Hurricane Florence has caused. The high flood waters have been washing the dangerous pig waste out onto fields and into rivers and creeks. As of noon yesterday, 30 lagoons had overflowed, 21 were completely covered by water from outside, and six broke.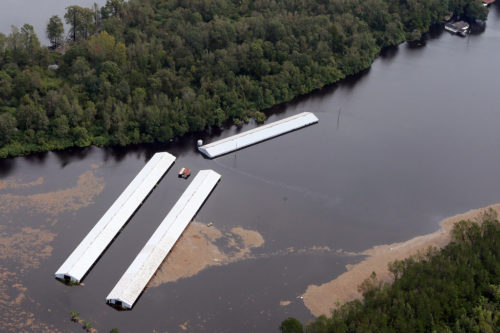 The pollution can kill huge numbers of fish and cause problems for other plants and animals. We may not know how bad the problems are until much later, when tests are done on the water and the dirt in the area.
The lagoons that have leaked are not the only worry. There are about 75 more lagoons which are very close to overflowing. As rivers keep rising in some areas, the problems could get worse.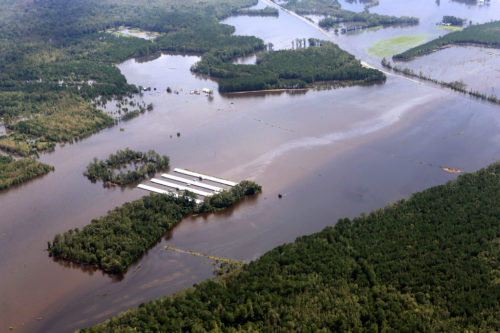 😕
This map has not been loaded because of your cookie choices. To view the content, you can accept 'Non-necessary' cookies.