Cuxhaven, Germany —(Map)
The world's first hydrogen trains have begun running in Germany. The trains make almost no noise and they run without polluting. Instead, they give off steam.
On Monday, two trains, built by the French company, Alstom, began to make the 62 mile (100 kilometer) trip between Cuxhaven and Buxtehude in Germany.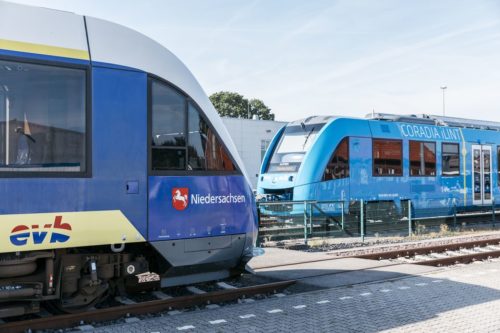 The trains, called Coradia iLint trains, can run 90 miles an hour (140 kilometers an hour), which is about the same as the speed of the diesel trains they are replacing.
Most modern trains run on diesel power. When diesel fuel is burned, it creates carbon dioxide and other polluting gases. These gases have helped cause climate change, and the more they are used, the worse it gets. For this reason, many countries are trying to find energy choices that are cleaner and less polluting than diesel.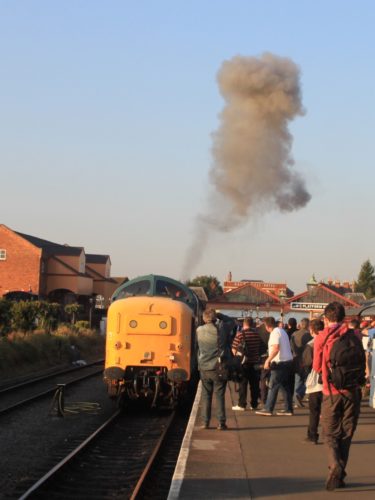 The new trains run on hydrogen, and can go about 620 miles (1,000 kilometers) before they need more fuel.
Hydrogen is the simplest known element. It is also very common – 74% of the universe is made of hydrogen atoms. Pure hydrogen is a gas that burns easily and is lighter than air.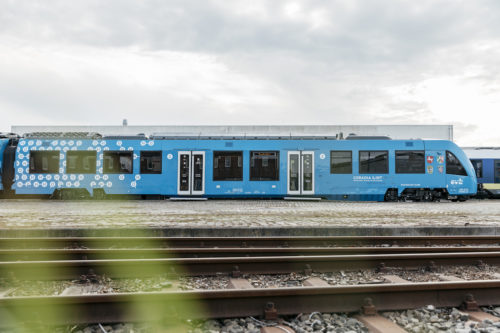 Hydrogen can be used to create electricity by combining it with oxygen in a "fuel cell". The chemical reaction which takes place creates electricity. A fuel cell is like a battery that never runs out of charge as long as it has hydrogen.
The great thing is, when the fuel cell creates the electricity, it does not create any pollution. The only thing it gives off is water, which comes out as steam. You may have heard people calling water "H2O". That's because water is made of two parts hydrogen (H) and one part oxygen (O).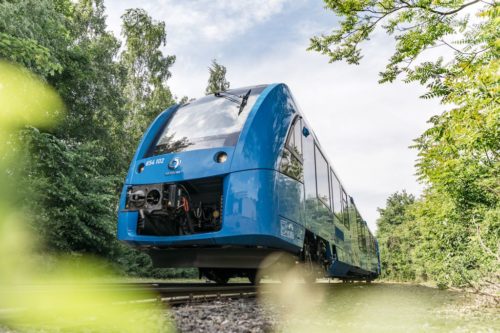 The hydrogen fuel cells are used to create the electricity needed to drive the train. If too much electricity is made, it can be stored in special batteries.
Because the motor is electric, the train runs almost silently, which is good for the people inside and outside of the train.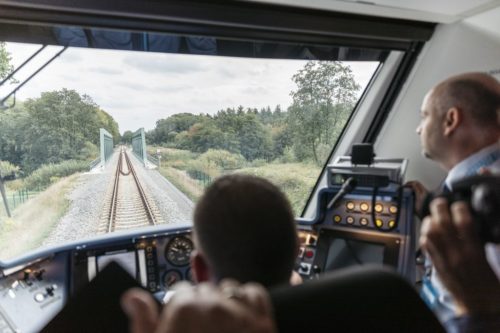 Even though there are many great things about the hydrogen powered train, it does have its down sides. The first of these is price. Right now, hydrogen trains cost more money to make. As more hydrogen trains are used, prices should start to come down.
And even though the train itself does not cause pollution, collecting the hydrogen to run it does create some pollution. That's because even though there's plenty of hydrogen on earth, the hydrogen is almost always part of something else. For example, most hydrogen is separated out from natural gas. Even if you just wanted to get the hydrogen out of water, you'd need electricity to do it.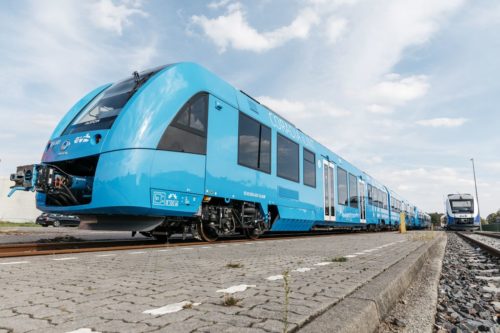 Alstom says it will bring 14 more hydrogen trains to Germany by 2021. Many other countries, such as Denmark, Norway, Italy, Canada, and the UK, are also interested in hydrogen trains. France has a plan to have hydrogen trains on its rails by 2022.
😕
This map has not been loaded because of your cookie choices. To view the content, you can accept 'Non-necessary' cookies.