Midway Atoll —(Map)
The world's oldest known wild bird, an albatross named Wisdom, has returned to her nesting place in the Midway Atoll. The 68-year-old bird has just laid another egg.
The Midway Atoll is made of two small islands in the middle of the Pacific Ocean, about halfway between the US and Asia. The island is home to about 3 million seabirds, who return there every year to mate, lay their eggs, and raise their chicks.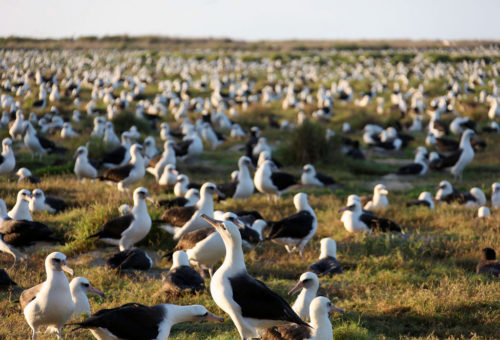 About 1.3 million of these birds are Laysan Albatrosses. Albatrosses are huge birds that spend much of their life at sea. With their wings spread out, albatrosses measure around 6.5 feet (2 meters) from wingtip to wingtip.
Midway is an important place for albatrosses, and an important place for scientists who want to study them. One of the ways scientists can study birds is by banding them. Putting a small numbered band on the leg of a bird, helps scientists tell which bird is which. This makes it easier to keep track of what happens among the birds. Over 250,000 albatrosses have been banded on Midway since 1936.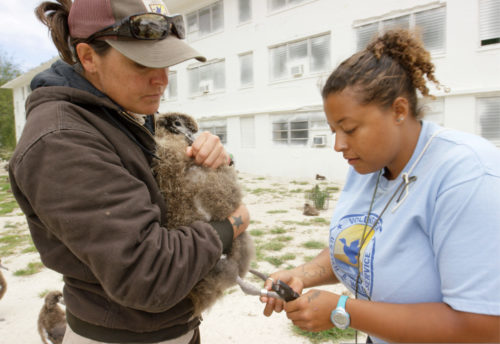 In 1956, a scientist named Chandler Robbins was banding albatrosses. He didn't know it, but one of the albatrosses he banded was Wisdom. Wisdom was just five years old and still didn't have a name.
In 2002, when Mr. Robbins returned to Midway, he came across Wisdom once more. When he checked the band number, he saw that he had been the first one to put a band on her – 46 years before.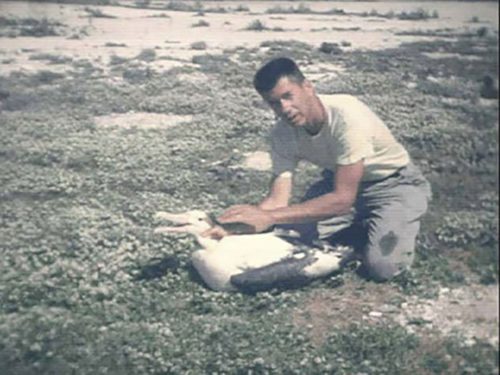 Wisdom was using the same nesting spot. Albatrosses return to the same nesting spot every year, which is one reason it's important to protect bird nesting areas.
When albatrosses choose a partner, they remain partners for life. But Wisdom has been alive so long that she has had a few partners. Wisdom's partner for many years now is a bird called Akeakamai.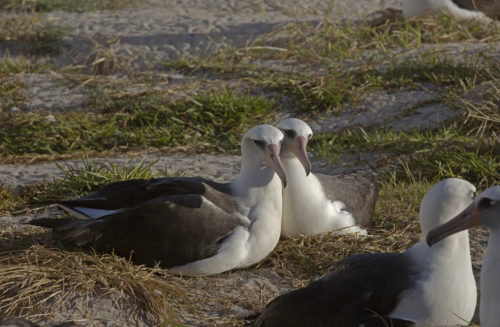 Wisdom is not just old, she is also active. Because it takes so much time and energy to raise a chick – it takes about seven months until a chick can fly – many albatrosses lay eggs every other year. But Wisdom has laid an egg every single year since 2006. Counting this year's egg, she's probably laid about 40 eggs in all.
Wisdom and Akeakamai take turns sitting on the egg. Once the chick is born, probably sometime in February, they will take turns caring for the chick and flying out to sea for food.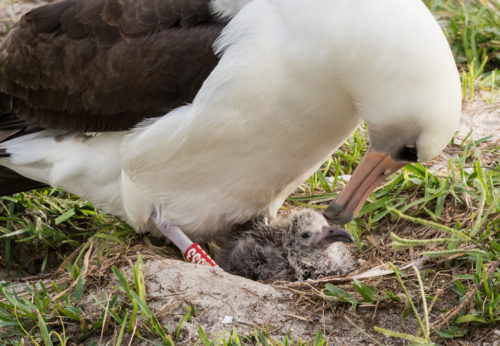 Adult albatrosses spend a lot of their lives flying over the sea, resting from time to time on the water to eat. Wisdom has probably flown about 3 million miles in her lifetime!
In 2017, scientists spotted one of Wisdom's children in a nest very close to Wisdom's own nest. Because Wisdom has been laying eggs for so long, she could have her chicks and the chicks of her chicks all around her. There may soon be one more to add to the list.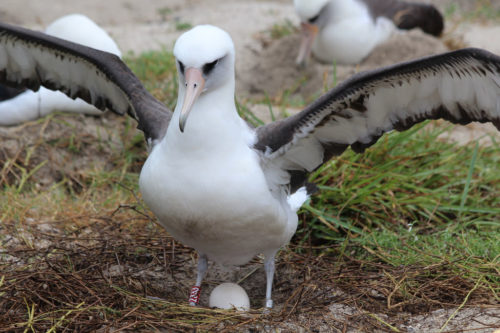 😕
This map has not been loaded because of your cookie choices. To view the content, you can accept 'Non-necessary' cookies.