Puerto Triunfo —(Map)
A few hippos that were brought to Colombia for a zoo have been running wild for over 25 years. Their numbers are growing rapidly and causing problems for other animals in the South American country.
Some time after 1978, four African hippos were brought to Colombia by Pablo Escobar. Mr. Escobar was a Colombian criminal who became rich by selling illegal drugs.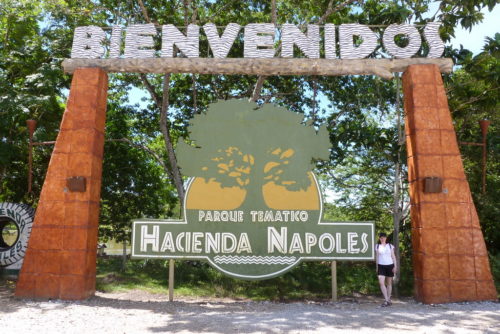 During his life, Mr. Escobar used his money to buy many different houses and to entertain himself. Perhaps his most famous property was a place called Hacienda Nápoles (Naples Estate).
Hacienda Nápoles was a huge ranch covering around 7.7 square miles (20 square kilometers). Besides a massive main house, the property had a go-kart track, a bull-fighting ring, and its own airport.
Mr. Escobar even had a zoo on his ranch, filled with animals from around the world, including unusual birds, lions, tigers, elephants, giraffes, and hippos. Many of the animals were brought into the country illegally.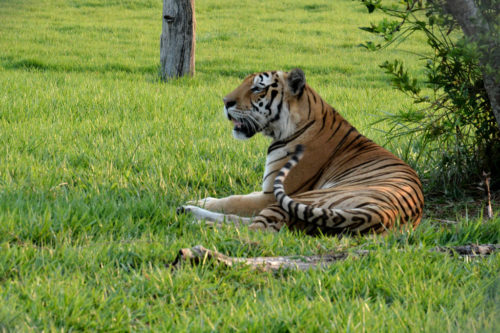 When Mr. Escobar died in 1993, the animals were sent to other zoos – except the hippos. The hippos were too difficult to catch and move, so they were simply left there.
Over time, the hippos escaped, roamed the countryside, and created more hippos. By 2007, Mr. Escobar's four hippos had turned into 16.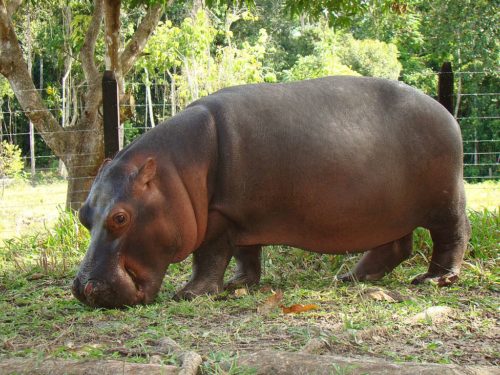 Scientists from Colombia and the University of California San Diego spent the last two years studying the growth and impact of Mr. Escobar's hippos. They say there could now be over 80 hippos. The animals have been seen as far as 93 miles (150 kilometers) away from Hacienda Nápoles.
In Colombia, the hippos are invasive. That means they don't belong and are pushing out other kinds of animals that do belong. Hippos came from Africa, and don't naturally live in South America.
But conditions in Colombia are great for hippos. There's plenty of food, and the animals like the rivers and lakes. In Africa, the number of hippos is limited by the lions that hunt them. At times, the lack of rain also keeps the numbers low.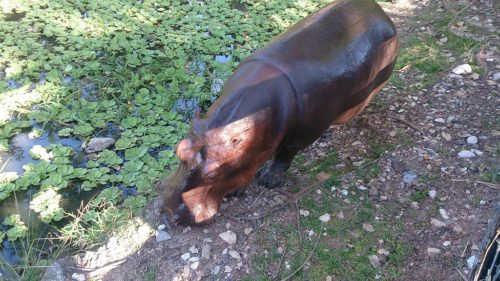 In Colombia, hippos don't have either of those problems. That's why their numbers are growing so much more quickly than they normally do in Africa.
So what's the problem? Mainly, the hippo poop. During the day, hippos eat grass on land. At night, they remain in the water, pooping.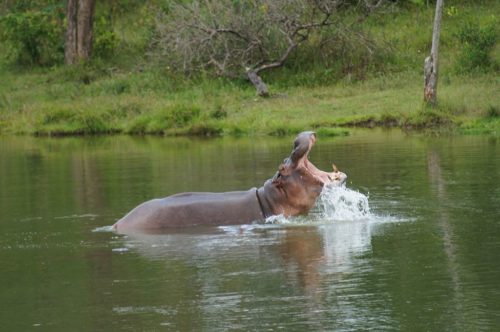 Since hippos are so huge and eat so much, they poop a lot. They poop enough to change the water. The scientists found that the water where the hippos stayed had far less oxygen. It also had more dangerous bacteria and algae (a very simple plant).
The scientists say that these changes could have serious effects on other important Colombian animals like manatees, turtles, and fish.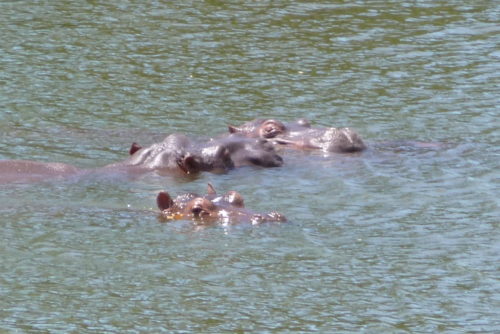 The question is what to do with the hippos. Many Colombians like the animals, since they bring tourists. And hippos are generally too dangerous and too heavy to move.
But unless something is done soon, the problems will get even worse. The scientists say in 10 to 20 years, Colombia could have hundreds or thousands of invasive hippos.
😕
This map has not been loaded because of your cookie choices. To view the content, you can accept 'Non-necessary' cookies.