Bacteria are tiny living things. They are so small that they can usually only be seen with a microscope. They are so simple that they only have one cell. A cell is the "building block" of life. Even animals too small to be seen without a microscope can have thousands of cells. A human body has trillions.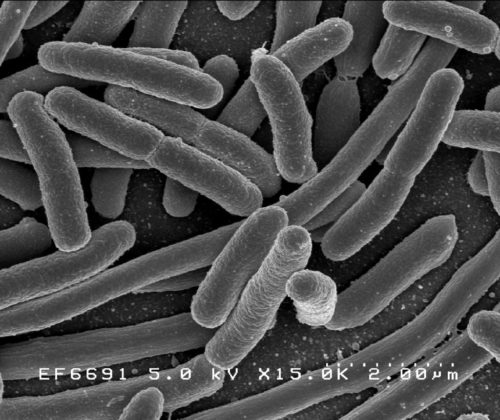 Bacteria were some of the first kinds of life on earth. If you could weigh all the bacteria on earth, they would weigh more than all the plants and animals on earth put together.
Bacteria can live almost anywhere – even in places where no other kind of life can survive. Bacteria feed themselves and grow in many different ways. Some can live off of sunlight. Some bacteria can "eat" other things by changing the chemicals in those things into something that will help the bacteria grow.
All living things depend on bacteria. Humans have about ten times as many bacteria cells in their bodies as human cells. Bacteria help us digest our food, keep our skin healthy, and help keep us from getting sick by fighting bad bacteria. Other bacteria can hurt humans and make us sick.
Bacteria live in groups, called bacteria, but a single one from the group is called a bacterium.