Koalas Lick Wet Trees to get Water
Scientists have recently discovered that koalas often get water by licking rain from tree trunks. That's new information. Until recently, scientists believed that koalas got all of the liquid they needed from eating the leaves of eucalyptus trees.
The discovery came as a result of many years of "citizen science" – asking ordinary people to report on what they saw. In over 12 years of reports, every time someone watched koalas in the rain, they saw the behavior. One koala was even seen licking a tree for over half an hour.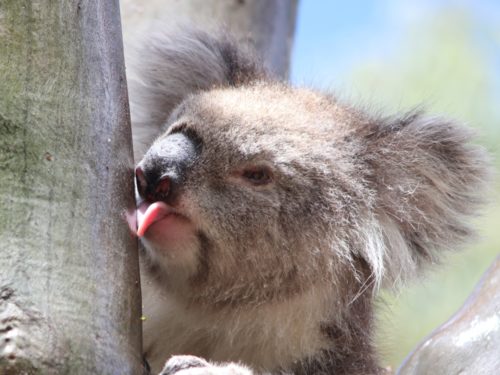 In Australia's recent heatwaves, koalas have been seen looking for unusual sources of water. They've even taken water from bikers.
But Australia was also going through a serious drought. If koalas normally depend on wet tree trunks for water, it makes sense that they have to look for other sources of water during long dry periods.
One reason the discovery wasn't made earlier is fairly clear – people don't like to go out in rainy weather to watch koalas.
Brown Bear Spotted for the First time in 150 Years
For two years, the film-making company Zeitun Films left "photo-trapping" cameras in a national park called Invernadeiro in Galicia, Spain. The company was collecting wildlife video to include in a movie they are working on, called Montaña ou Morte (Mountain or Death).
The film crew and experts from the park were surprised to find images of a brown bear in the videos. The park experts say that it is probably the first brown bear to pass through the area in 150 years.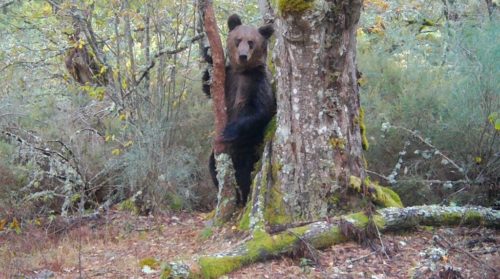 In the past, brown bears were known to live in the area, but they are now in danger of dying out. Brown bears have been protected in Spain since 1973.
Park experts said that the bear was a male and was probably between three and five years old. They believe the bear probably spent the winter in the park.
The discovery was exciting news for the park's workers, since it meant that after years of efforts to restore the park as a natural area, it can now support bears again.
FaceTiming with Garden Eels
Sumida Aquarium in Japan is facing an unusual challenge because of the lack of human visitors during the lockdown. The aquarium's garden eels have begun to disappear every time a keeper comes by. That's making it difficult to check on the health of the eels.
Disappearing underground when something comes near is normal behavior for garden eels, but the eels at the aquarium had become used to having visitors every day. Recently, though, with no humans visiting, their habits seem to be changing back.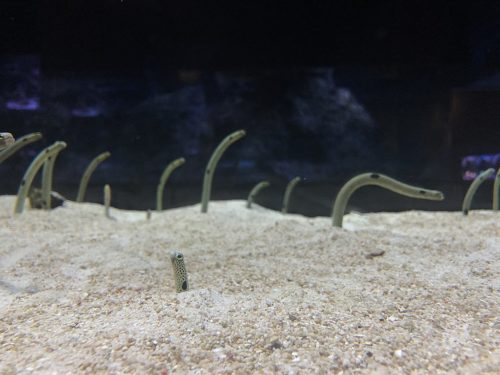 So the aquarium tried an unusual solution. Earlier this week, it invited people to FaceTime the eels. The aquarium set up iPads facing the eel tank, and asked people at home to make video calls to their eels. The aquarium asked people to show their faces and wave. People were encouraged to talk, but not shout.
The goal was to get the eels used to seeing human faces again. So far the aquarium has not reported on whether the project was a success.