Jaipur, India —(Map)
Huge swarms of locusts are attacking farms and fields in northwest India. Billions of the insects are moving through Rajasthan toward central India, destroying crops in the worst locust invasion in over 25 years.
Locusts are grasshoppers. Normally grasshoppers don't travel in groups and so they do little harm. But when there are lots of them, their bodies and behavior change. That's when they become locusts. Locusts travel in huge groups, laying eggs along the way, which produce even more locusts.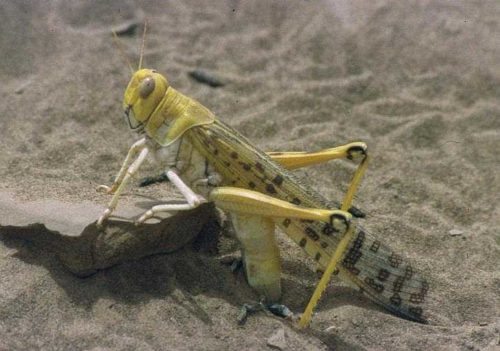 Swarms of locusts can do incredible damage to crops and other plants. The insects eat their own weight – 2 grams (0.7 ounces) – in food each day. Experts say that in a single day, a small swarm of the insects can eat as much food as 35,000 people.
The swarms in India aren't small. K.L. Gurjar, who works for India's Locust Warning Organization, says, "Eight to 10 swarms, each measuring around a square kilometer, are active in parts of Rajasthan and Madhya Pradesh." One square kilometer (0.4 square miles) of land can hold as many as 150 million swarming locusts.
Experts say climate change may be making the locust invasions worse. Locust swarms are more common after heavy rains, since the insects lay their eggs in wet ground. There have been extremely heavy rains from the Indian Ocean this year, and it has been warmer than usual.
Many countries in Eastern Africa are also struggling with locust swarms, where the invasions started last year. Recently East African countries have been hit by a second, stronger wave of the insects.
But the locusts in India came from Iran and Pakistan, where the insects forced the government to declare a state of emergency. By next month, the locusts from East Africa could also arrive in India.
By moving with the winds, locusts can travel up to 90 miles (150 kilometers) a day or more. The insects have been moving in from the west and are now threatening central India. It is the worst locust invasion the country has had since 1993.
The insects are a threat to lives in the country, where food is already in short supply for some. Many poor people in India are already suffering greatly because of the government's strict coronavirus lockdown, which began on March 24 and has been extended until May 31.
The insects have already ruined crops on around 193 square miles (500 square kilometers) of farmland. Losses like these will make India's food shortages even worse. The country could be facing its most serious food shortage in decades.
The Indian government is working hard to bring the locusts under control, so they don't ruin the summer crops, too.
The main method of controlling the locusts is with pesticides. On the ground, workers are using tractors, fire engines, and other equipment to spray the insects. The government is also using drones to track and spray the locusts from the air.