Street Near White House Named "Black Lives Matter Plaza"
On Friday, a section of 16th Street Northwest in Washington D.C. in front of the White House was officially renamed "Black Lives Matter Plaza".
The move comes after days of protests across the country, sparked by the killing in Minneapolis of a black man by a white police officer. Though most protests have been peaceful, there has been violence and looting, especially earlier this week. There have also been many cases of violence by the police.
US President Donald Trump has encouraged a strong show of force against the protesters. For many, that position suggests that Mr. Trump doesn't understand how upset many people are about police violence against people of color.
The mayor of Washington D.C., Muriel Bowser, disagrees with Mr. Trump, and has asked him to remove the extra soldiers the president has brought into the city.
In addition to renaming the plaza, the city government also created a massive painting along the road. The painting spells out, in huge letters, the words "BLACK LIVES MATTER". The painting is as wide as the street and stretches for two city blocks.
The area around the new Black Lives Matter Plaza was used by Mr. Trump on Monday when peaceful protesters were removed by force so that he could take a picture holding a bible in front of a nearby church.
"We had the opportunity to send that message loud and clear on a very important street in our city," said Ms. Bowser. "That message is to the American people that black lives matter."
Joe Biden is the Democratic Candidate for President
The Democratic party in the US has been holding primary elections to determine who will face President Donald Trump in November's election. Though most people believed that Ex-Vice President Joe Biden would be the Democratic candidate for president, it wasn't a sure thing until this week.
In early April, Senator Bernie Sanders – the last candidate opposing Mr. Biden – dropped out of the race and said that he was supporting Mr. Biden. But that didn't mean Mr. Biden was automatically the democratic candidate.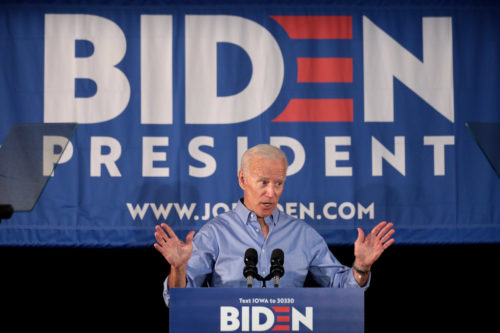 The Democratic primary elections aren't just about winning votes. They're really about winning "delegates" from each state – people who will agree to vote for the candidate at a large meeting this summer called the Democratic National Convention.
A total of 1,991 delegates are needed to win. When Mr. Sanders dropped out, Mr. Biden only had 1,217 delegates.
Now, after elections were held in seven more states and the District of Columbia (Washington, D.C.) last week, Mr. Biden has reached his goal. He is now believed to have around 2,004 delegates. Mr. Biden might have met his goal earlier if the coronavirus pandemic hadn't caused elections to be delayed in several states.
Mr. Biden struggled to remain in public view during the lockdown, but recently he has begun to leave home for a few important events.