Protests over violence against people of color have continued around the world. The protests have focused attention on racism in a way that has rarely been seen, and are leading to real changes in laws and rules.
Protests broke out across the US after the death of George Floyd, who was black. Mr. Floyd died after a white police officer held his knee on Mr. Floyd's neck for nearly nine minutes. Mr. Floyd was the latest in a long list of people of color who died as a result of police violence.
The protests began in the US, and are still largest and strongest there. But racism is a problem in many countries, and the ideas behind the protests have struck home with people around the world.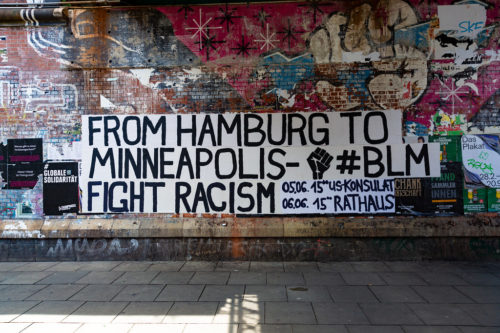 The protests are leading to important changes. The US Congress has introduced a bill designed to tackle police violence and racism. Leaders of Congress hope to pass the bill by the end of summer.
Many cities, states, and police departments are changing rules and laws locally to limit violent actions by police. New cases of police violence are drawing attention and quick responses.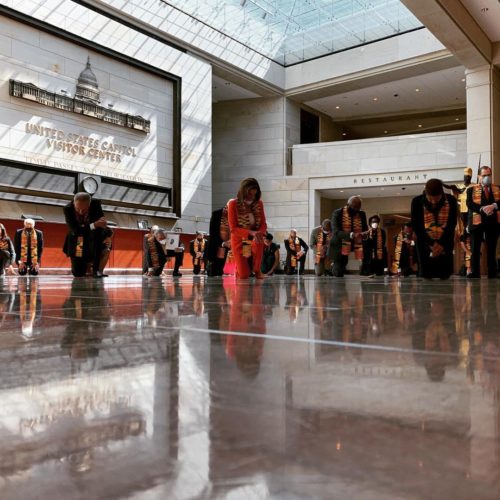 The topic may also soon come up at the United Nations (UN). All 54 countries in Africa have requested a UN discussion of the way people from Africa are treated in countries around the world.
Changes are also happening in groups not connected to governments. In 2016, American football player Colin Kaepernick began kneeling during the US national anthem as a protest over police violence against black people. He was criticized and punished as a result.
Now the NFL and MLS, two important US sports groups, say protesting by "taking a knee" is allowed.
😕
This image has not been loaded because of your cookie choices. To view the content, you can accept 'Non-necessary' cookies.
The ideas behind the protests are also growing and changing. Many protesters are asking how such racism has been allowed to exist, and are looking back at history. Many countries which are rich and powerful today have a history in which slaves from Africa played a large part.
Now people are questioning how events from the past are remembered, and which people from the past should be honored.
In several countries around the world, people have torn down or damaged statues of people who are part of this racist past. In Bristol, England, protesters pulled down a statue of a man who traded slaves and threw the statue into the water.
😕
This image has not been loaded because of your cookie choices. To view the content, you can accept 'Non-necessary' cookies.
In the US, these ideas often focus on the American civil war, since the southern states (known as the Confederates or the Confederacy) didn't want to end slavery. For this reason, items connected to the Confederacy are often seen as racist.
In the US, statues of Confederate soldiers have been attacked. Others have been taken down on purpose by local governments. The car racing group NASCAR has banned flying the Confederate flag at its races.
Statues of Christopher Columbus have been another target for protesters. Many older history books celebrate Columbus as the person who "discovered" the new world.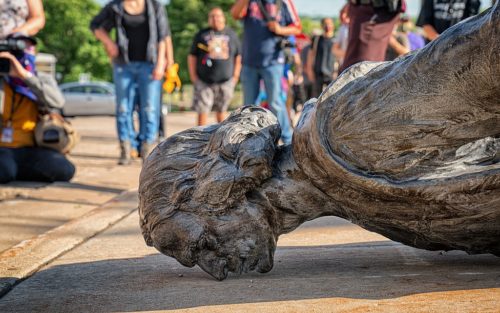 Many people find it insulting and racist to say a European person "discovered" a place where Native American people had already been living for 15,000 years.
The protests over racism and justice show no sign of ending soon, and will likely bring more changes.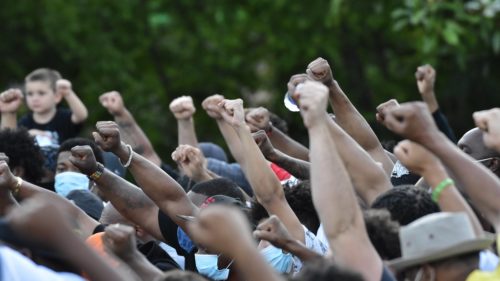 ---
Below are just a few examples of what's going on with protests around the world:
• Canada: Large protests continue in many Canadian cities. Tensions have grown recently after the release of a video showing a police officer punching an indigenous leader in the face.
• United Kingdom: The United Kingdom has had large protests in many cities for weeks. But this weekend, the protesters were met by violent far right protesters who want to protect their ideas about white history.
• Australia: Thousands of people have taken to the streets in Australia, where many people are looking carefully at the way the country's Aboriginal (indigenous) people are treated.
• New Zealand: Thousands of New Zealanders have been protesting and marching in Wellington and Auckland.
• Germany: Many large protests have been held in Germany. Over the weekend, protesters in Berlin organized a 5.6 mile (nine-kilometer) long human chain to show support for the movement.
• France: Large protests have taken place in Paris and other cities, with protesters chanting "No Justice, No Peace". Some of the protests turned violent, and police used tear gas on the protesters.
• Japan: Thousands of people gathered for protests in Tokyo and Osaka.